Beauty Spot Cocktail -1914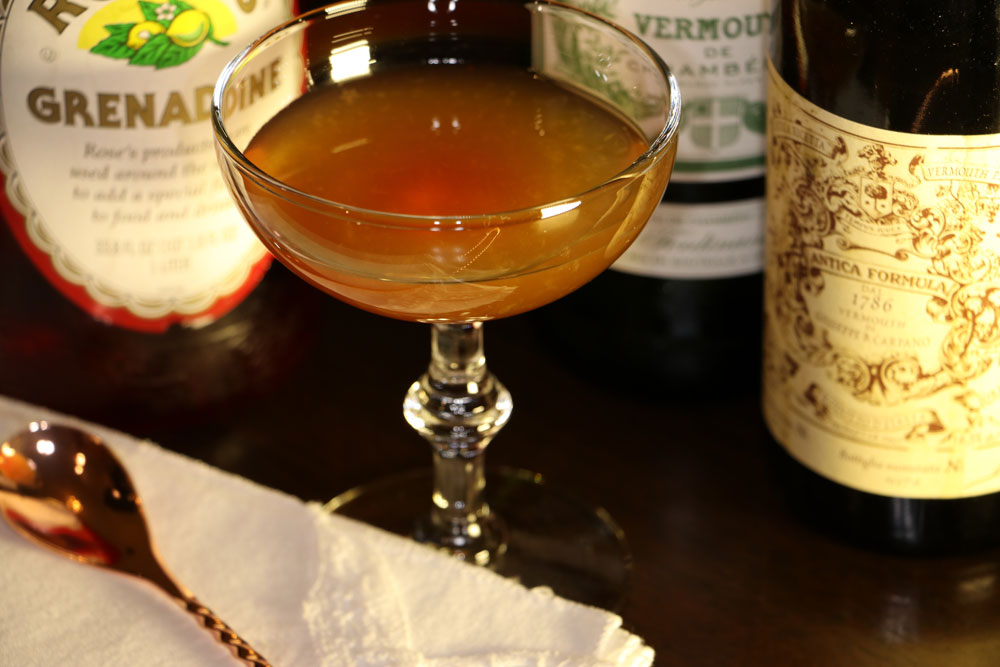 Published in Jacques Straub's 1914 cocktail book Drinks, this is the best rendition of the Beauty Spot Cocktail we've tried thus far. While the recipe seems to been overhauled 3 years after publication in Hugo R. Ensslin's Recipes for Mixed Drinks. Having made both recipes, we enjoyed this version best.
Ingredients
1-1/8 teaspoon Fresh Squeezed Orange Juice
3/8 ounce Italian Vermouth (Sweet)
3/8 ounce French Vermouth (Dry)
3/4 ounce Compound Gin
1/4 teaspoon Grenadine
Mix

Add all the ingredients listed above to a chilled shaker and stir them together.
Transfer

Your cocktail into a 3 ounce stemmed glass and gently add 1/4 teaspoon of grenadine to the center of the glass.
Pro Tip:
Always keep your Vermouth refrigerated after opening the bottle. Vermouth is a wine based spirit that should be treated as you would a bottle of wine.
Pony = 1 fluid ounce
Typical "shot" = 1-1/2 fluid ounces
Jigger = 1-1/2 fluid ounces
Bar Spoon = 5 ML or 1 Teaspoon
Splash / Dash = Approx. 1/4 Teaspoon
Dram = 1/8 fluid ounce