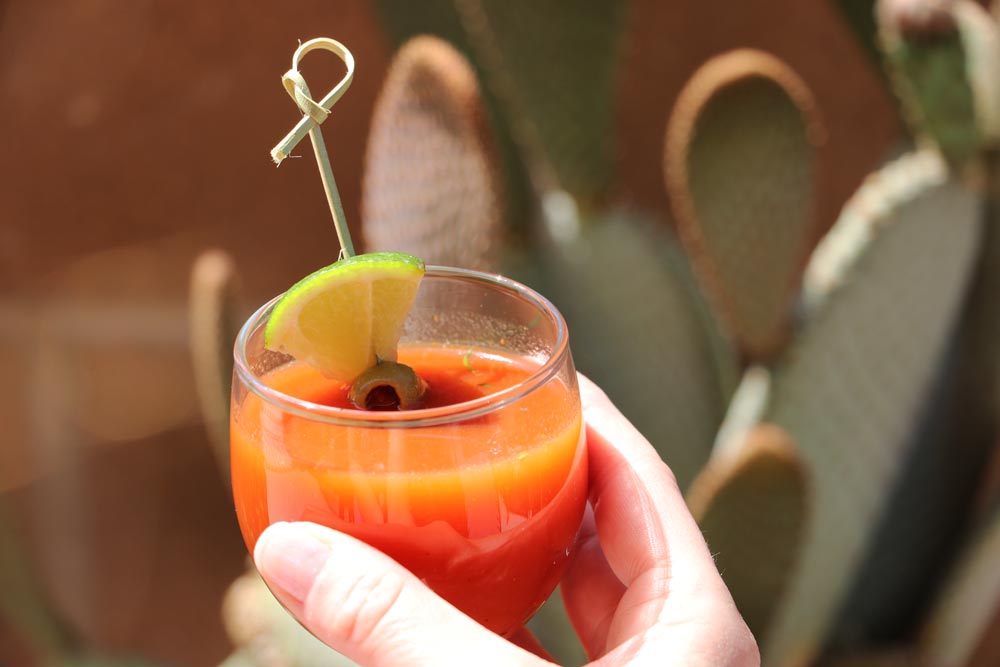 A refreshing twist on a Prickly Pear margarita, the Arizona Mule boasts a beautiful bright pink appearance and sweet citrus notes. Definitely a must try on a hot summer afternoon.
Ingredients
1/4 Fresh Lime
1 Jigger Tequila Silver
3 oz Spicy V8 Juice
3/4 oz Olive Juice
Dash of Black Pepper
Sprig of fresh Rosemary, Cilantro and Spicy Hot Oregano
Muddle
Cut Lime and fresh herbs.
Add
Tequila and Lime Juice then let the mixture steep for about 5 – 10 min.
Shake & Strain
Add V8 juice to the mix. Shake well and strain into a highball or stemed glass.
Garnish
Add in your favorite Bloody Mary garnishes including but not limited to: a lime wedge, green olives, bacon, shrimp, celery or pickle.
Glass Style:
Highball or Stem
Pro Tip:
Homemade Ginger Beer offers the more Ginger kick and less sugar that most store bought brands. It's also packed with gut-healthy probiotics.
Pony = 1 fluid ounce
Typical "shot" = 1-1/2 fluid ounces
Jigger = 1-1/2 fluid ounces
Bar Spoon = 5 ML or 1 Teaspoon
Splash / Dash = Approx. 1/4 Teaspoon
Dram = 1/8 fluid ounce