The Blue Blazer is the first drink that literally scared me. How on earth can making a cocktail be scary you ask?
Two words, fire and booze!
Not just any fire and booze drink however, the Blue Blazer has been described as a mythical cocktail. The flair drink to end all flair drinks. Transferring high-proof liquor that has been set a blaze between two silver-plated mugs, the instructions note that "if well done, this will have the appearance of continued stream of liquid fire."
Having no one other than us two at home to impress with flair (except the cat?), making the Blue Blazer Cocktail seemed unnecessarily dangerous. But I put my mind to crafting every cocktail in this book and darn it, that is what I'm going to do!
We asked our new friends at Herb's & Rye if any of their skilled mixologists could make us Jerry Thomas' famous drink. They had heard of the drink, one bartender even said he'd made the cocktail a couple years back. Alas, the bar was not equipped to properly mix this one up for us and alas we weren't able to find anyone in town to take it on.
Ryan did not want to try mixing this cocktail. I didn't blame him, and offered to do it myself. Fearing for my safety, he refused to let me put myself in harms way.
The drink ingredients are basic, 2 Jiggers of Whiskey and 2 Jiggers of boiling water.
While Mr. Boston's called for the obvious Old Mr. Boston's Whiskey, the original recipe was Scotch. Since neither of us wanted to do this drink twice, we choose to stick with the tried true ingredient… Scotch.
The higher the alcohol proof, the easier it will burn. Since the Blue Blazer needs to withstand being doused with boiling hot water 4-5 times, we decided we needed to use a cask strength whisky.
Having never ventured into the over 100 ABV Scotches before, Ryan and I sought advice from a knowlegable liquor store employee at Lee's Discount Liquor. While I thought we had a good sense of the aged whisky world, the gentleman who helped us make our selection was very versed on the subject.
After some back-and-forth, we decided to give something new a try.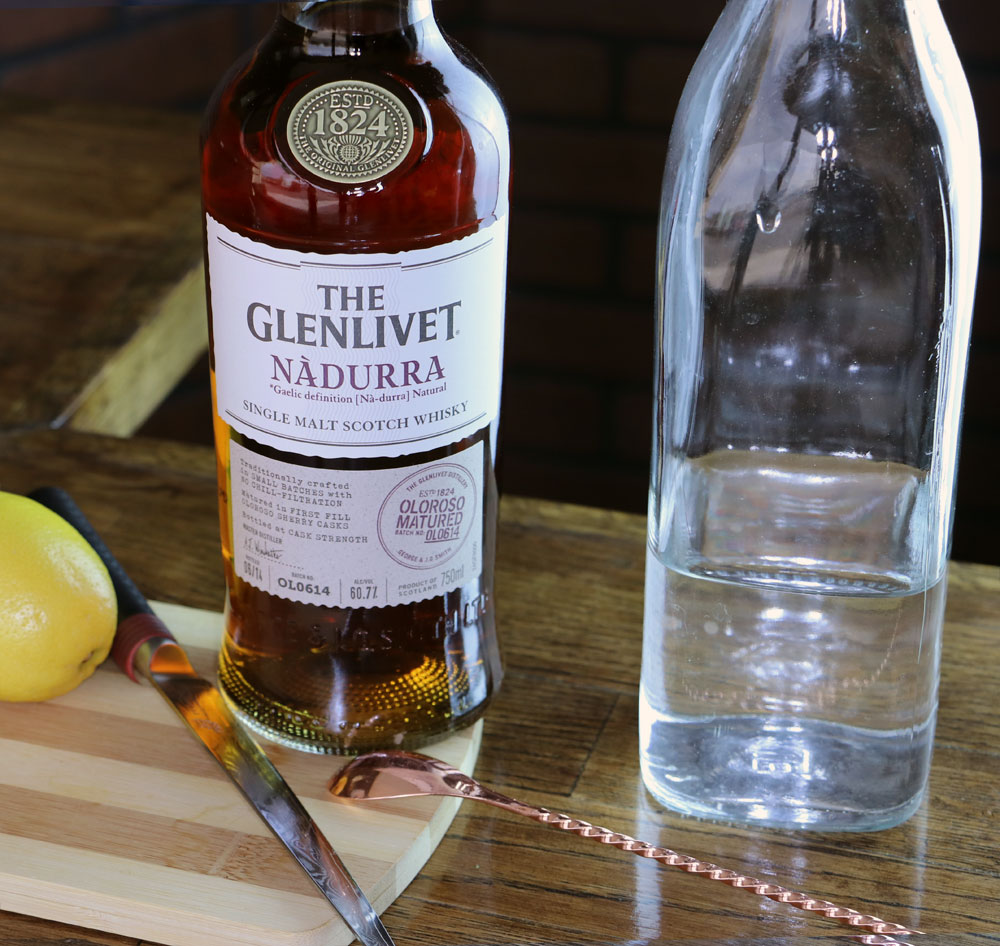 Glenlivet's Nadurra Oloroso was bottled at 60.7% (121.4 ABV) from Spanish sherry casks. It is remarkably smooth for such a high-proof spirit but it still has quite the kick on its own.
Not only is the Blue Blazer Cocktail the most dangerous, it will also go down in history as the most expensive recipe we've tried this far. In addition to ponying up $80 for the Glen, we also needed two metal pitchers to get the job done.
I really wanted to buy the "proper" silver-plated mugs that are noted in the recipe, but we procrastinated on gathering supplies for the drink. As a result, we couldn't get our hands on the nice set from Cocktail Kingdom in time for tonight's Mr. Boston's post 🙁
Thankfully, these stainless steaming mugs from the restaurant supply store appeared to be acceptable replacement. They have a study feel and a large enough mouth to make the task of transferring liquid less tricky.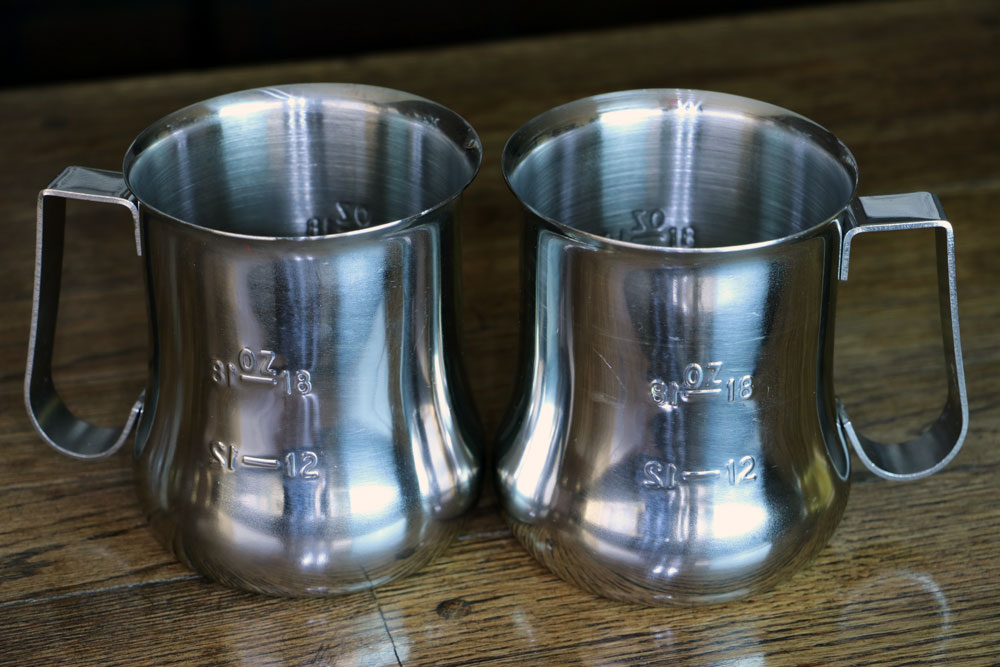 Jerry Thomas' 1887 Blue Blazer recipe contains this reassuring passage,
"The novice in mixing this beverage should be careful not to scald himself."
Heeding that warning, Ryan practiced his pour with 4 ounces of water before attempting the cocktail.
There was some question of where this drink was to be prepared. Our tiny 300 square foot kitchen seemed too risky. With only 3 feet between tile and carpeting, we didn't want to set our house on fire in the process. Alternatively, Bootleg Botanicals HQ is solid concrete and equipped with a sprinkler system / multiple fire extinguishers. Seemed like a better fit. Sambuca (the cat) will have to miss the show this time 🙂
Putting our tasting room bar to good use, we set up the camera, supplies and prepared the "set" to make our very first Blue Blazer Cocktail. Wanting the flames to show up well on film, this cocktail experiment needed to wait until the Vegas sunset around 7:50 PM.
After grabbing a bite to eat, we made our way back to our warehouse just as the sun set behind Mt. Charleston. I offered to heat the water up with our coffee maker per the instructions, but Ryan didn't think it would make any difference. It did…
The first blue flame transfer was beautiful but as Ryan went for round two, the flame went out 🙁 So, we heated up the water and tried again. It was a success!
httpss://youtu.be/6butbySBnw0
After weeks of worrying, our Blue Blazer Cocktail turned out without injury. I wouldn't recommend anyone try this one at home without the proper safeguards but Ryan had a lot of fun with it.
Tomorrow it's back to non-flammable fare. For now we're enjoying our yummy hot Scotch cocktail and savoring the success.