Today's Mr. Boston's recipe sounded rather tart. In hopes of discovering an alternate recipe, I discovered that no other cocktail by the name Brandy Gump seems to exist.
Without another option, I mixed up the jigger of Brandy, juice of a lemon and 2 dashes of Grenadine. Sipping it slowly,  I tried to figure out where the name originated.
I found myself empty handed after Googling "Brandy Gump" or "Gump Cocktail." After trying "Gump 1935 something unexpected appeared.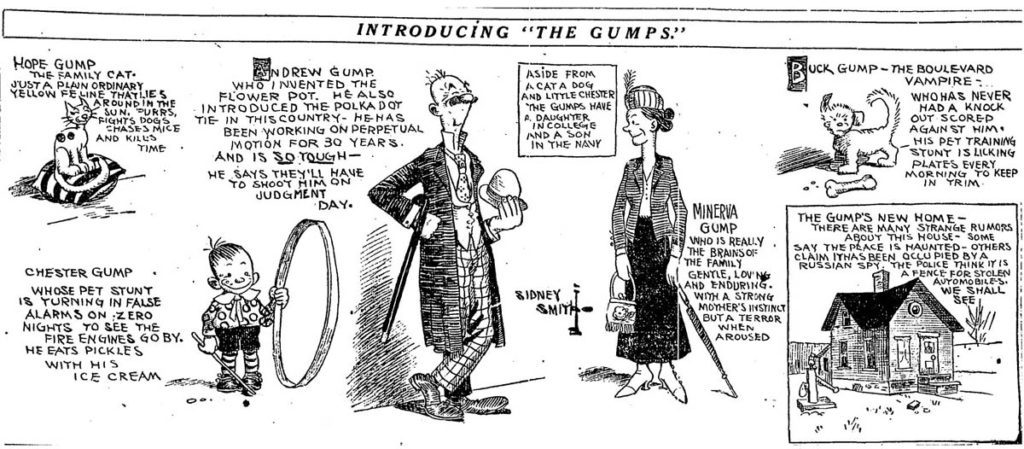 I think that the Gump cocktail may have been named after this cartoon strip from 1917. I have no proof per se. None of the characters appear to be named Brandy. However, but given the popularity of the comic of the time, 'The Gumps' comic strip seems to be the most logical connection to the drink.
Leo Cotton's nod to popular culture seems to continue but unlike the Bolero cocktail, I have no idea what the connection is.
As expected, I don't care for the Brandy Gump.
It is way too tart and the mere 1/4 teaspoon of Grenadine does little to sweeten things up. Many recipes published online stick to the same ingredient proportions as my vintage Mr. Boston's book, although most call for 1/2 a teaspoon of Grenadine. I added another 1/4 teaspoon to see if that would improve things but alas, I still don't care for the Brandy Gump.
If you're a fan of all things sour, this cocktail could be for you. Personally, it left me wanting some antacids 🙁 The ounce of lemon juice overpowered everything in the drink. Seems a waste of perfectly good Brandy to me.
I just hope tomorrows drink is more exciting and less bitter!