Many people don't know this, but Gin is by definition, an alcoholic, juniper-flavored spirit made not via the re-distillation of botanicals, but by simply adding approved natural flavoring substances to a neutral spirit of agricultural origin. The predominant flavor being juniper. In simpler terms, Gin is a juniper berry infused neutral grain spirit.
There are many different types of Gin and some dictate that the distillation of botanicals is a must have. These include London Dry Gin and Distilled Gin. Most drinkers are familiar with these types of Gin being clear.
Compound Gin is often a pale yellow tint due to the residual oils that have been retained in the liquor and are not stripped out during the distillation process.
Although Gin has been produced using the compound method for centuries, it is only recently that drinkers are becoming aware of this type of Juniper goodness. Prohibition era Bathtub Gin gave compound Gin a bad name but most Gin haters we'd talked to are surprised to learn that they actually enjoy compound Gin more than the distilled variety.
Bootleg Botanicals Bathtub Gin's are considered compound Gin. Since developing the recipes, we have always infused Vodka thinking that the lack of flavor would be the best fit for the drink.
Recently an article popped up in our email box that got us thinking outside of our Vodka box. In an effort to reduce waste, a distillery in England is making their Gin out of wine grape waste. Inspired by the idea, we sought out on two Gin Making experiments. Here's what we discovered…
EXPERIMENT #1
In college, Ryan studied in Italy for a Summer. It was in the northern half of the country that he was introduced to Grappa, aka Fire Water. For those of you who are not familiar, Grappa is a strong Italian liquor made by distilling the skins, pulp, seeds and stems left over from the wine-making process.
Ryan's initial impression of Grappa was not a positive one and it wasn't until 20 years after his European adventure that we dared purchase a bottle and give it another go.
Grappa ranges in alcohol from 70 to 120 proof. Gin is legally defined to be over 40% ABV (80 proof). As luck may have it, the bottle of Knight Gabriello Grappa di Brunello we purchased at Total Wine and More is 45% ABV.
When enjoyed straight, the flavor profile of this brand of Grappa is semi-sweet with hints of cherry and slight breadiness not unlike American Moonshine Whisky. Ryan and I decided this palette may go nicely with our Bathtub Gin No.6 which is more of a New Wave style Gin much in the vein of Hendricks.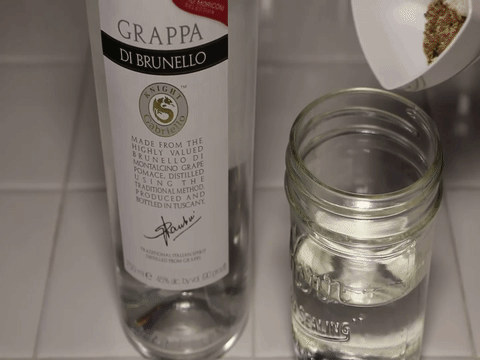 Not wanting to sacrifice all 750 ML of our Grappa, we decided to run a smaller experiment first. As each vial of our Gin botanicals makes about 1 liter of finished Gin, 1/3 TSP of spices to 4 ounces of alcohol sounded like a good ratio.
The spices were added to the Grappa at 3:30 PM. By 7:45 PM the liquor had become a lovely golden hue and we decided to give our experiment a quick taste test.
I liked it but Ryan wasn't sold. The juniper notes hadn't overtaken the Grappa's doughy flavor and in someways seemed to enhance it. We decided to give the spices more time to infuse.
EXPERIMENT #2
Since trying only one different spirit is a bit boring, we put together a Rum version using the same measurements and Gin spices as the Grappa test. For this test we chose Bacardi's Superior White Rum.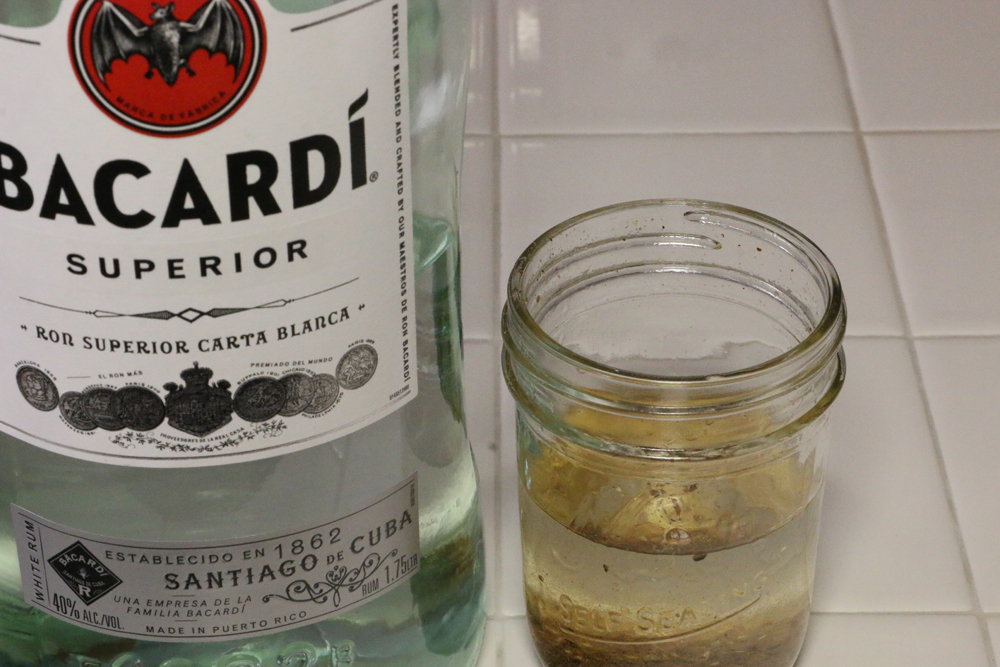 On its own, Bacardi's Superior White Rum has a lot of sweet Vanilla notes and is a bit astringent. I wasn't sure whether or not this particular Rum would be too sweet or not but we decided to give it ago.
THE RESULTS
After giving both spirits 21 hours of infusion time, the Rum version was the clear winner.
Despite giving the spices more time to release their oils into the Grappa, the breadiness of the liquor was just too strong to overcome. The spices definitely added some nice nuances to the Grappa but the lack of Juniper oils pulled lacked the Gin like characteristics we crave. I think I'll mix up the end results with some ginger beer and see how it turns out. A new Mule cocktail may have just been discovered 🙂
The spices mellowed out the acidity of the Rum. It may actually be smoother than our Vodka based Gins!
To my surprise, the sweetness does not detract at all from the drink as our Gin No.6 has a bit of sweetness of it's own. The two complimented one another nicely. If you'd like to try a different style of Gin sometime, we encourage you to try a Rum based infusion. Check out this delicious pineapple cocktail using Rum infused with Bootleg Botancials Gin No.6 infusion spices here.
Do you have any suggestions for other Gin experiments? We'd love to hear them! Share your thoughts below…