Prohibition and the city of Chicago go hand and hand. Not only did the town gain a reputation for its gangsters and bootleggers during the 1920's but one of it's most well known citizens was both.
Alphonse Capone is probably one of the most widely recognized figures of the era and has become the "face" of Templeton Rye's reboot campaign circa 2001.
In researching tonight's Mr. Boston's recipe, the Chicago Cocktail, it became clear that thirsty residents in the Windy City loved their brown spirits during Prohibition but, cocktails originating from the town did not get their just due until decades later.
Bathtub Gin seems to get the bulk of the glory in stories of bootlegging era cocktails but Whiskey played a major role in 20's era drinking. Surprisingly, neither ingredient is featured in tonight's recipe instead, we turn our attention to Brandy.
Given the compelling story of Capone's admiration for "the good stuff" I would have expected the Chicago Cocktail to be a Rye Whiskey based drink. Al's reported go-to cocktail consisted of bitters, Grand Marnier, Rye and Champagne which is actually quite similar to the recipe published by Harry Craddock in the Savoy Cocktail book in 1930.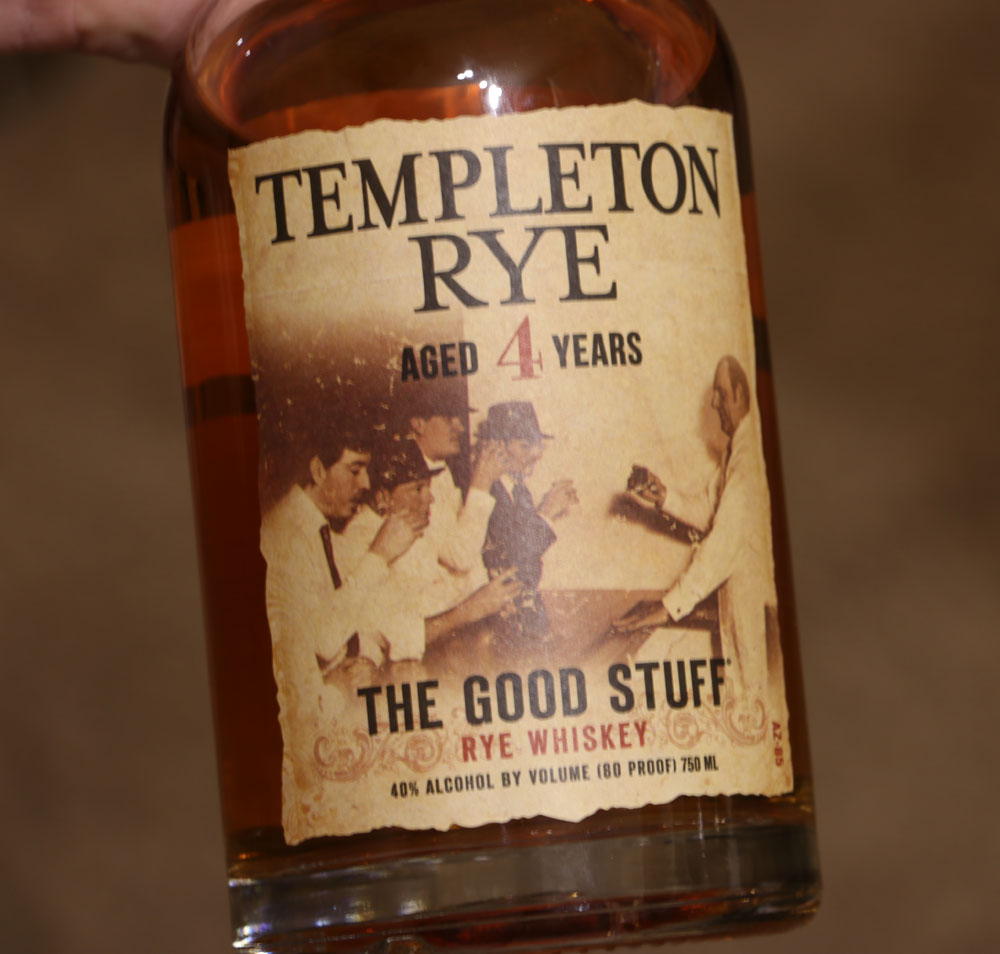 Harry's Chicago Cocktail consists of:
1 dash of Angostura Bitters
1 dash Curacao
2/3 Brandy

Shaken over ice and strained into a cocktail glass rimmed with Caster Sugar and topped off with Champagne.
Why British based Harry attributed this particular recipe to Chicago is a mystery. It is really close to the recipe Capone is reported to have fancied. I would guess that Wisconsin's love affair with Brandy may have played a role in the spirits use in this mid-Western themed cocktail recipe as Rye was often considered an old man's drink at the time. Maybe the switch was meant to appeal to the feminine drinkers who had become more socially accepted during the Roaring 20's. Pre-Volstead, women were not generally allowed to imbibe in public.
Five years after the original Chicago Cocktail was published, Leo Cotton added it to the first Mr. Boston's publication updating Brandy to Old Mr. Boston Apricot Nectar. All the other ingredients, instructions and quantities remained true to the earlier recipe.
Dying of curiosity, I set out to mix up Capone's cocktail using the 2/3 Whiskey to 1/3 ounce champagne ratio noted in the Savoy and Mr. Boston's recipes.
Starting with 1 ounce of Templeton Rye, I added 1/4 ounce Grand Marnier. The book recipes only call for a dash but I thought upping the sweetness might be a good thing… it wasn't!
I don't know whether it was the incompatibility of the Templeton and the Grand Marnier or the Champagne choice and the base ingredients but whatever the reason, this was a tankable drink. It wasn't good, not even a little bit. I was inclined to pour it down the drain but Ryan insisted I try and fix it. A 1/3 ounce of Triple Sec did the trick… thankfully!
For my second experiment I tried mixing 1 ounce of our Old Fashioned infused Evan Williams Rye with 1/3 ounce of the Barefoot Bubbly. It is much better but still not as wonderful as I would have guessed. This time, I'm almost positive it is simply that the Champagne just doesn't match the botanicals.
Finally, I stuck to the script and tried the Savoy Book Recipe as written. My Chicago Cocktail looked like this:
1 ounce Symbole XO Brandy
1/8th teaspoon Angostura
1/8th teaspoon Drillaud Triple Sec
1/3 ounce Barefoot Bubbly Brut Cuvee
The drink was still a dud. We tasted the Champagne to make sure it hadn't gone since our last cocktail. Other than being a bit flat, it tasted fine. I had reserved 1/4 ounce of the Triple Sec because I figured that this recipe might need it. It did.
After adding the reserved Triple Sec and 1/4 ounce of Apricot Brandy, my Chicago cocktail was transformed into a rather nice drink. Given the fussy nature of this one, I don't expect to be recreating it anytime soon. I will be testing every new Champagne we get against Rye in the hopes of determining the right pairing.
Here's hoping tomorrow night's Mr. Boston's recipe turns the tides back around. The Chicago Cocktail was simply a crime.