The next cocktail in Mr. Boston's 1935 edition is a full of curiosity.
The Apple Blow Fizz is comprised of pretty standard ingredients but, despite its moniker, there is no Apple in sight! Rather than Apple Brandy, (which is now the spirit of choice for this drink on Mr. Boston's website), the predominant liquor for the Apple Blow Fizz listed in the 1935 version is Apricot Nectar.
It doesn't look like Ben Burk, Inc. made an Apple Brandy or Nectar which may explain the change of ingredient. However, tomorrow's post is loaded with Apple flavored spirits so I guess we may never know where this name came from.
A key part of the Apple Blow Fizz is the use of egg whites.
I must admit that it has taken me some time to overcome my apprehension of using raw egg for fear of getting sick from it. The good news is that Salmonella is relatively uncommon in raw eggs when pasteurized, at least that's the word on the street anyway 🙂
Month's back Ryan and I treated ourselves to a couple of classic cocktails at a highly praised cocktail bar here in Las Vegas called Herbs & Rye.
A dimly lit Speakeasy-like bar on the other side of the famous Las Vegas Strip, Herbs & Rye specializes in a long list of cocktails organized by historical period. The menu is massive and a wee overwhelming. If you don't know a bit about various spirits you may have a tricky time deciding on what to try but thankfully our bartender was really friendly and helped us pick our poison.
Out of curiosity, I ordered a Ramos Fizz which is a cocktail which apparently hails from the Golden Age of drink 1865-1900. Crafted from Gin, Citrus, Orange Flower Water, Cream, Soda and Egg White; words can not describe the beautiful towering foam our skill bartender created. It was easily 4 inches deep when the drink was served and I knew then and there we had to figure out how he did that!
I stumbled onto a handy blog written by Mark Vierthaler on Tales of the Cocktail talking about the three different ways to shake an egg white cocktail. In the article, Mark found that he preferred a method called the reverse shake.
The reverse shake is described as a two shake process where the spirits are shaken over ice before the addition of the egg white. This chills the drink but does not introduce ice to the egg white which can affect the foam rise. After the mixture is chilled the liquor is strained into another shaker, the egg white is introduced, and after giving the shaker hell you can gently pour your creation into an appropriate glass and serve.
We tried Mark's suggestion several cocktails ago and saw better results than our previous attempts using the dry method. But the foam came no where close to Herbs and Rye's Ramos Cocktail.
While I've been busily writing this blog series, Ryan has immersed himself in learning the science behind the drinks. My personal Bill Nye has been watching a slew of YouTube videos from some very talented mixologists around the globe in addition to reading Dave Arnold's Liquid Intelligence.
During a video on egg white cocktails, Ryan keenly noticed a small wire ball that was added to the shaker. Seeing the Apple Blow Fizz as a great opportunity to put this little gizmo to the test, we found the tool we needed in the protein powder section of the grocery store.
It was hiding and we had thought we'd need to order one on Amazon but as I've mentioned before, we aren't patient people. After combing the aisles, I spotted the ball inside a plastic water bottle on the top shelf. The combination was a lot more expensive than online but we wanted to keep our drinks flowing.
Since a good foam is a thing of beauty, we decided to video tape this mixing session with the hopes that our foam would live up to Herbs & Rye. Secret weapon in hand, Ryan opted to make this drink using the dry shake method. This method is a little less complex and for video it seemed the better way to go.
Unlike our earlier attempts where poor Ryan shook until his arms fell off, we were able to get a really thick, lovely foam in under a minute. The addition of the sparkling water, called for in the recipe, lifted the foam to new heights and created a liquid masterpiece! I was very impressed that a little metal ball could make such a big difference.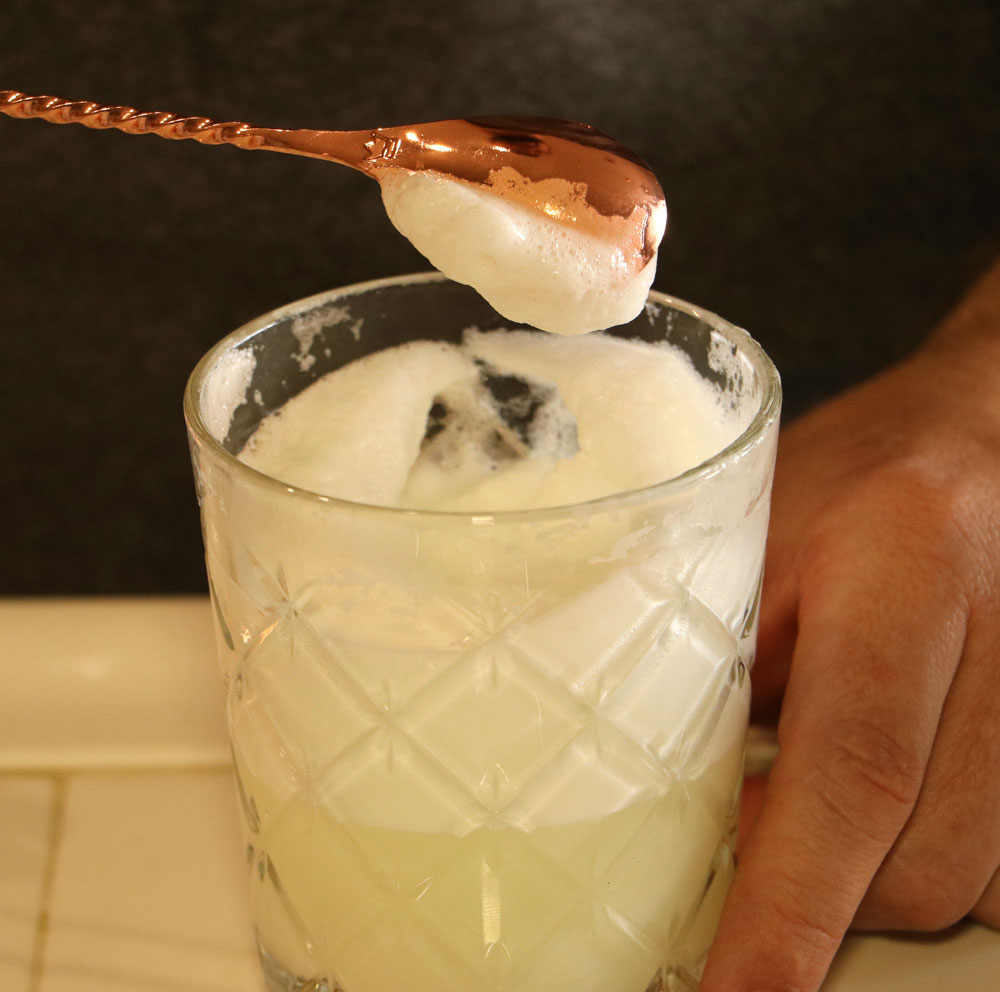 This version of the Apple Blow Fizz doesn't taste anything like apple. In fact, like the Alabama Fizz, I wasn't in love with this drink. Our foam was amazing but the recipe lacked interest and could have used more lemon juice and swapped out the powdered sugar for simple syrup. Maybe less fizzy water would have helped? Perhaps we'll have to give it another try sometime 🙂