Ryan and I celebrated 15 years of marriage on June 24th. Normally that would call for a huge celebration but this year we had to work through a stressful importation situation that put a crimp on properly marking the occasion.
The day was pretty horrible. Ear marked with a CT scan and numerous heated telephone calls to the Los Angeles port, we decided to grab some dinner at Off the Strip.
Our poor waiter surely could tell that this wasn't our day. Perhaps it was the constant exiting of one of us stepping outside to make / take a phone call every five minutes.
While I was outside talking to my doctor, Ryan mentioned that it was our anniversary and asked if the restaurant could offer anything to help us celebrate. The waiter who we later learned is named Chris, explained he couldn't offer anything at Off the Strip but if we wanted to stop and see him the following night at his other job, he could hook us up with a celebratory dessert.
Turns out Chris also works at Gordon Ramsay's Pub and Grill inside Caesars Palace. As a big fan of Ramsay's television shows, I was excited to try his food for the first time. Truthfully the prices at his restaurants made me nervous and as a result we had saved making a trip to any of his many Las Vegas locations for a special occasion.
We called ahead and made reservations to be seated in Chris' section the following evening. The following day we celebrated our do-over anniversary and capped off the night at the Pub and Grill.
Since money is usually tight this time of year we opted to eat before arriving at the restaurant for dessert but planned on trying out a couple of cocktails. As promised Chris presented us with the restaurants signature dessert which was probably the best I've ever had! Seriously if you ever make it, you must try the Sticky Toffee Pudding. Trust me on this 😉
With desert, Ryan tried the Danny Boy while I sipped on The Mule's Hind Leg. Both cocktails were delightful but the Mule's Hind Leg was the winner for both of us.
A blend of Absolut Elyx Vodka, Fresh Lime, Ginger, Juniper Berries & Pernod the menu described the drink as "our version of the Moscow Mule with a kick." Chris explained the secret process the mixologists at the bar went through to create the drink but if we told you then… well you know the rest.
This cocktail was a fantastic balance of some very strong flavors. The mixologist in charge created a refreshing citrus based cocktail whose Anise and Juniper notes did not distract or take center stage. Not an easy task! If any one part was a bit heavy for me it would be the lime juice but only slightly and not enough not to love this drink.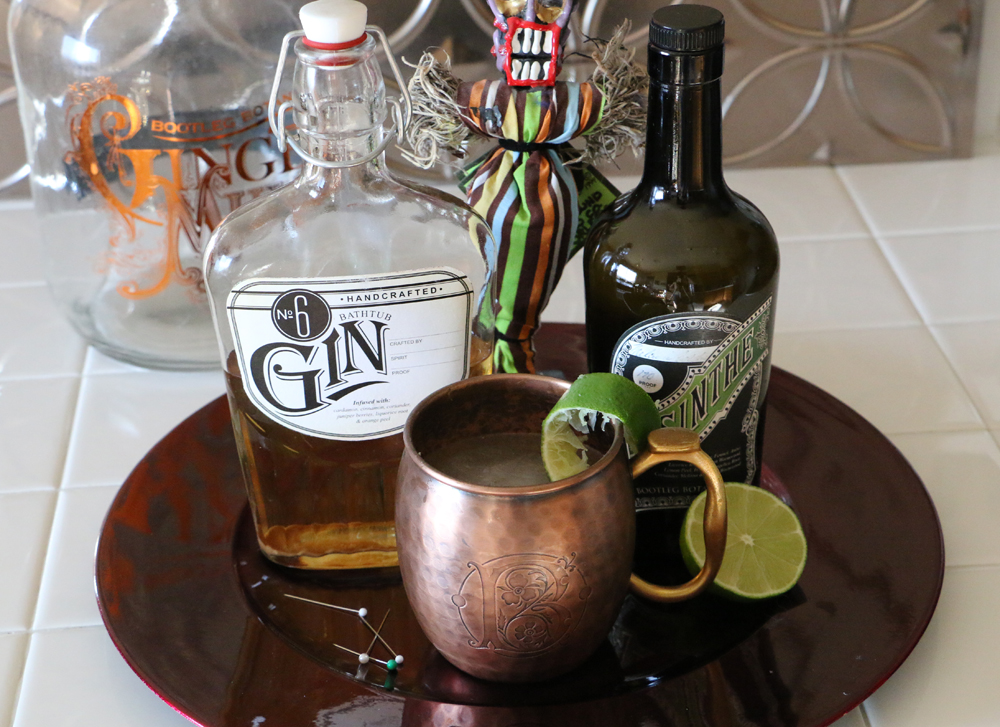 The Mule's Hind Leg was so satisfying that it inspired our New Orleans Mule recipe. A combination of our Absinthe, Bathtub Gin No.6 and alcohol ginger beer, the New Orleans Mule is pretty darn good in our humble opinion. Check out the recipe and let us know what you think!
Thank you Chris and by extension Gordon Ramsay for making our 15 year anniversary a happier memory. Thanks to you, we something fond to look back on about our special day. Cheers!