The Champagne continues to flow!
Today's Mr. Boston's recipe, the Champagne Cup, is supposed to be served in a large pitcher which should give you an idea of the recipes scale.
Comprised of:
1 Quart of Champagne
1 Tablespoon of Powdered Sugar
1 Glass of Apricot Brandy
2 Liqueur Glasses Curacao
1 Liqueur Glass Maraschino
1 Liqueur Glass Grand Marnier
The Champagne Cup recipe published by Leo Cotton in 1935 is presented with slices of orange, pineapple, a "small slice of cucumber peel" and 3 to 4 sprigs of Mint.
I sought perspective on this recipe and looked to my older cocktail books for guidance. Up first was Jerry Thomas' Champagne Cup, a la Brunow recipe from 1862.
Aside from the Champagne and Curacao, the oldest recipe I referenced was quite different from Mr. Boston's on several fronts. While Leo Cotton opted for Apricot Brandy, Jerry called for plain Brandy. Instead of Maraschino, Mr. Thomas noted "1 wine-glass of raspberry ratafia" this ingredient was followed by instruction to (see Index) which I found very intriguing.
After locating the Ratafia listing in the index as instructed, I made way over to page 121 of the book. It appears that Ratafia, according to  Jerry Thomas, is "every liqueur made by infusion is thus called. When the spirit has imbibed thoroughly the flavor and color of the fruit steeped in it, the infusion is drawn off and sugar added; then filtered and bottled." Having never heard this term before, I found my new knowledge fascinating.
Apparently, the 1862 Champagne Cup called for homemade infused Raspberry Liqueur… Chambord's predecessor if you will. Jerry doesn't give any clues as to what the base spirit should be nor do I have any idea what proof he would have been using. This makes crafting a proper 19th century alcohol infusion a little tricky. Based on Wikipedia's defination of a Ratafia (for whatever it's worth) it appears Brandy or wine could have served as the base. At the very least modern it is the base used in modern recipes for Ratafia.
Having to open up a fresh bottle of Champagne, I figured I'd give both recipes a try but they would require some downsizing.
The measurement, Liqueur Glass, is a new one for this book. The Pony Glass illustration in the back of the manual was the closest match to a "liqueur" as it stated a Brandy Cordial should be served within it's 3/4 – 1 ounce cup. With that bit of info and some scaling, my Mr. Boston's Champagne Cup looked like this:
2 ounces of Champagne
1/4 teaspoon of Powdered Sugar (the exact would be .187 of a teaspoon but that's just a crazy measurement 🙂 )
1/8 ounce of Apricot Brandy (3/4 teaspoon)
1/3 teaspoon Curacao
1/3 teaspoon Maraschino
1/3 teaspoon Grand Marnier
For my attempt at the 1862 recipe, I decided to use up some of the Chambord we've had on the liquor shelf since 2002. I'm not positive it hasn't turned on me but I didn't really have time to infuse my own raspberry liqueur.
Now, Jerry's recipe says it is meant to serve a party of 10 people but he doesn't tell us what size 1-1/2 bottles of Champagne is. Thankfully he did call out his accompanying spirits using fractions of pints so that helped a little. For the sake of my sanity, I decided to assume 1-1/2 bottles of Champagne is roughly the 1 quart Leo Cotton's recipe calls for. As such, I mixed up the following:
2 ounces of Champagne
1/3 ounce Curacao
1/2 ounce of Sherry
1/4 ounce of Brandy
1/4 ounce Chambord
Jerry Thomas' recipe is certainly boozier but the ABV is lessened with the addition of water. However, rather than make this easy on me (and why should he?) Jerry complicated his recipe even further. While the proof could be cut using Seltzer water alone, Jerry insists that his Champagne Cup should be cut with 1 bottle of Seltzer and 1-1/2 bottles of soda-water – WTF!
Firstly, I figure his "soda-water" is club soda since today, soda water can also be interchanged when describing Seltzer. Secondly, how big was a bottle of said water in 1862?
Based on the 6 ounce soda bottle I found, I added 1/2 an ounce of club soda.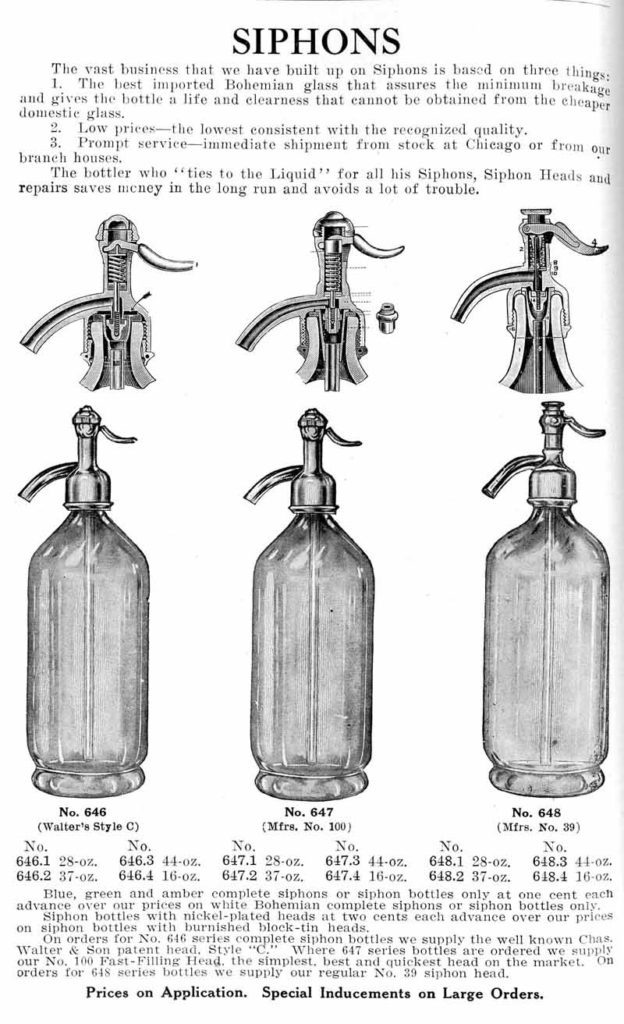 Since I have no idea which of these sizes Jerry Thomas might have been referring to, I picked the 28 ounce version. Downsizing it accordingly left me with 1.75 ounces to add into my Champagne Cup.
None of my coupes could handle the volume needed for Jerry's recipe. Thankfully my 1930's Champagne flutes were up to the challenge.
Both finished cocktail call for Cucumber which is admittedly one of my least favorite flavors in the world. Still I did as I was told and added a shaving of rind to both glasses.
Other than adding a pop of color, I didn't notice any taste enhancement from the cucumber peel in the Mr. Boston's Champagne Cup. The Pineapple slice added a lovely sweetness though! Overall, we both liked the 1935 recipe, all of the ingredients played nicely with the last few ounces of Faire La Fete we had.
A brand new bottle of Barefoot Bubbly was popped for the older 1862 Champagne Cup. I didn't have the Borage and Green Balm but, I was able to twist a cucumber peel around a skewer and fit it down the stem of my bubble stem champagne flute.
The 19th century Champagne Cup had much more flavor than the version published in Mr. Boston's book. Both were good but I think we preferred the older recipe.
It was a wee too heavy on the Sherry, maybe swapping the Brandy quantity with the Sherry would help blend everything a bit better. All and all, both Champagne Cup cocktails were winners, if you're looking for something new to do with your bottle of bubbly, give this a try.