Our Cinco de Mayo celebration kicked off with Cuban flair yesterday. After enjoying a delicious homemade enchilada feast, Mr. Boston's 1935 recipe book called for some Rum by way of the Bacardi Cocktail.
In the mid 1930's Cuban made Bacardi was the first liquor company to ever bring a case to the U.S. Supreme Court. Seems a bar in a New York hotel had been serving Bacardi Cocktails that did not contain any Bacardi Rum. The court ruled that a Bacardi Cocktail must use Bacardi Rum and the rest is history.
Like the Aviation Cocktail a couple nights ago, the Bacardi Cocktail can be found our copy of Mr. Boston's from 1935 and the 1917 Hugo R. Ensslin cocktail book, "Recipes for Mixed Drinks." Also like the Aviation, the recipes are different in each.
Ensslin's book calls for 2 dashes of Gum Syrup to be added to the Bacardi Cocktail. Mr. Boston's omitted the syrup and opted for 2 dashes of Grenadine. Both recipes note the juice of 1/2 a fresh lime but while the earlier 1917 says to use 1 drink of Bacardi Rum, Mr. Boston's uses 1 Jigger. Both recipes specifically mention Bacardi Rum as the spirit of choice though I suppose the 1917 version didn't legally have to yet.
Yet again, the measurement of liquors perplexed us. While modern Jigger measurements are 1-1/2 ounces, the 1917 recipe book through a wrench in the works. On the fifth page of the book just under what The Washington Post rightly observed to be "perhaps the world's most boring preamble," is a section written to be "for the benefit of those who are not familiar with the measures used by barkeepers."
There are just three measurements listed:
1 drink – 1/2 whiskey glass
1 jigger – 1/4 whiskey glass
1 pony – 1 jigger
Ok, so if a jigger is today's standard of 1-1/2 ounces, does that mean that a whiskey glass back in 1917 was 6 ounces? Mr. Boston's 1935 edition notes a whiskey glass to be 1-1/2 to 2-1/2 ounces. By that measure a jigger in 1935 would be 1/3 to 5/8 ounce.
How about a pony? Today's pony is said to be 1 ounce. But if it is equal to a jigger, than a jigger should be 1 ounce right? If we go by that logic a whiskey glass should be 4 ounces and a drink would be 2 ounces. So many questions!!!
For the Bacardi Cocktail I decided to go with the last option and make the original 1917 recipe with 2 ounces but keep the 1935 Mr. Boston's recipe to 1-1/2 ounces.
The next bout of perplexity came by way of the Rum choice. Obviously it had to be Bacardi but which, Gold or White? I hit up Google for some much needed answers and though I couldn't figure out when the Gold version was released, it appeared that the original 1862 recipe was clear.
Many cocktail sources we've read proclaim that Gold Rum stands up better in a cocktail. This also peaked my curiosity and spurred us to mix up the Mr. Boston's recipe with Gold and compare it to a 1917 version with white.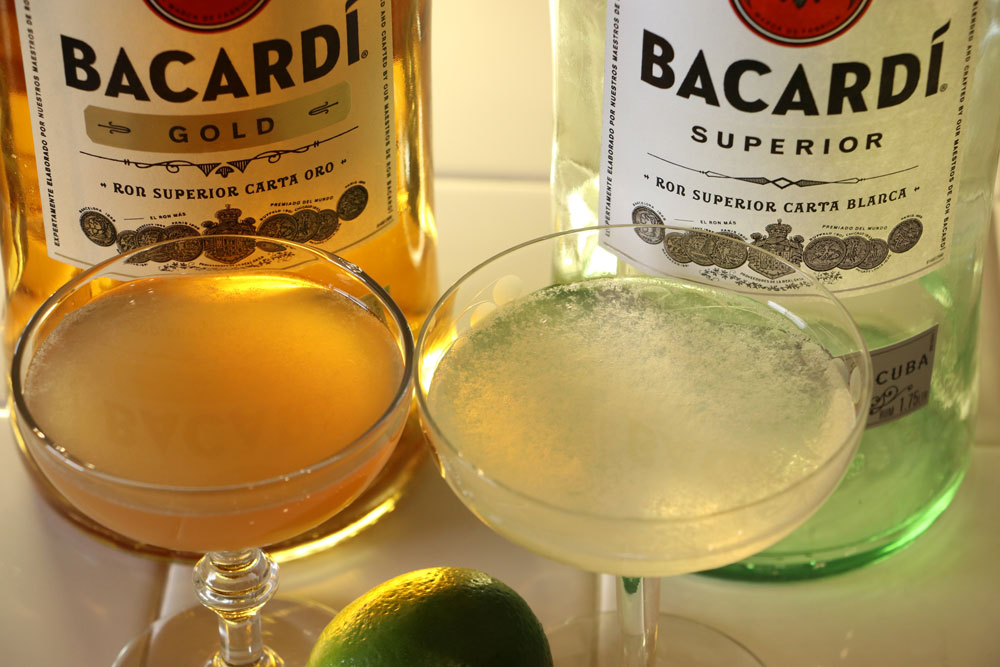 Both drinks had some serious pucker power. A bit too much pucker power for everyone in our house. However, while the Mr. Boston's recipe was practically undrinkable, the White Rum and lack of tart Pomegranate juice of the Grenadine made the 1917 recipe borderline enjoyable. The more I sipped, the more it grew on me.
Our final test was to see if adding Grenadine to the 1917 version and Gum Syrup to the 1935 recipe would make either or both more palatable. For my taste-buds, the Gold Rum still made from a tarter drink. The Grenadine didn't really detract or enhance the 1917 Bacardi Cocktail but the Syrup helped the Mr. Boston's mixture a lot.
So, in addition to my rambling questions about measurements and Rum selection, I'm now wondering about my choice of Grenadine. While the bar standard, Roses Grenadine, is heavily syrupy and artificial, that strong sweetness maybe just what the Bacardi Cocktail lacked. I had thought a Grenadine made of Pomegranate and sugar alone would be the best choice for crafting a proper tasting cocktail but, the Bacardi Cocktail was so biting that made that syrupy food dye is actually the right call for this drink.
As I just discovered while writing this, artificial Grenadine may have originated over 100 years ago. If that theory holds true, it is very possible that at least the 1935 version would have been crafted with the artificial version rather than the all natural form. I plan to give my theory a try this evening and see how it turns out.
Tomorrow I'll share the Bachelor's Bait Cocktail and maybe the results of my Bacardi re-do too 🙂