In an effort to keep accelerate my progress on this Mr. Boston's blog series, Ryan and I tasted the next three "Bar" titled cocktails last night.
The first drink of the evening called for one of our all time favorite spirits, Scotch Whisky! Though it wasn't the first recipe to call for this ingredient, I always get excited to mix with it 🙂
Last year we did a series of Mule Cocktail recipes to help explore the potential uses for our Ginger Beer Kit. One of the favorite recipes was the Scottish Mule which I crafted using Ryan's 12 year old, Port barrel-aged Glenmorangie. Those of you familiar with Scotch are probably shaking your head at me but I promise it was worth the expense.
After draining our Scotch cabinet of the good stuff, we decided to pick up a less expensive version for mixing cocktails. Not wanting bottom shelf, the best option seemed to be Dewar's White Label.
Ryan's brother got him hooked on pricey Scotch at the onset of our drinking years. As a result we didn't really know what to expect of the Dewar's. Unfortunately the medicinal flavor that turns so many off of Scotch is omnipresent in this Whisky. A bit too present for our beloved Scottish Mule. However, I've come to enjoy Dewar's in my frequent Rob Roy Cocktails so all is not lost.
Mr. Boston's 1935 version of The Barbary Coast Cocktail calls for equal parts Gin, Scotch, Creme de Cacao and Cream shaken over cracked ice and strained into a 4 ounce cocktail glass. Trying to avoid a repeat Bamboo Cocktail bitters boo boo, I consulted both the 1917 and 1914 cocktail books before delving into the Barbary Coast. It did not appear in either book leading me to believe it was created during or after Prohibition.
I performed my usual internet crawl and discovered that the earliest known publication for this cocktail was probably the 1927 "Here's How Book" by Judge Jr. Published 6 years before Repeal in 1933, my guess may have been on the money.
While some reviewers of this drink have credited the desperate drinking days of Prohibition to the unlikely pairing of Gin and Scotch, I thought it sounded great! Why not add the amazing botanical notes of Gin to a full rich earthy flavored Scotch?
As suspected, we LOVED The Barbary Coast Cocktail! Heaven in a glass I tell you 🙂 The sweet Creme de Cacao made the cream feel like dessert in your mouth while the brilliant combination of Scotch and Gin brought it all together. A masterpiece requiring an encore performance!
Having just discovered the Here's How Book whilst writing today, I sought out a digital copy and found one! Now I have another vintage cocktail book to consult along the way 😉
Along with having some pretty amusing Toast's at the bottom of each page, I like that Judge Jr. added a little origin note above each recipe. The Barbary Coast recipe reads " This drink was originated on the Pacific Coast, to get people used to earthquakes."  Recalling the article I first discovered this book, sounds like the Barbary Coast was a lawless red-light district of San Francisco during the late 19th – early 20th century. After the 1906 quake that hit San Francisco twenty years prior, it would take more than just one of these cocktails for me to get used to earthquakes! Probably one of the best historical drinking facts I've stumbled onto thus far.
Though the next cocktail sounded as interesting as the Barbary Coast, it didn't wow us as much.
The Baron Cocktail is a Vermouth, Gin, and Cuarcao drink served in a 3 ounce cocktail glass according to Leo Cotton. It wasn't the taste of the final drink that was the issue with this one. Instead, it was the mouth-feel of the drink that felt watered down. I'm wondering if this drink may not be improved by stirring over ice rather than shaking.
One of the elements I really enjoy in a Rob Roy is the thickness of the sweet Italian Vermouth. By contrast, The Baron uses much less sweet Vermouth and more of the dry version. I find the French Dry Vermouth to be less thick due to the absence of sugar. The 6 dashes of sugary Curacao does little to add more richness to the texture of the Baron. Perhaps I'll give this another try tonight stirring over ice to see if dilution was the issue.
Our final cocktail of the night shares a name with three generations in my family. The Barton Special brought back the Scotch but failed like other "special" cocktails in this book, it wasn't so great.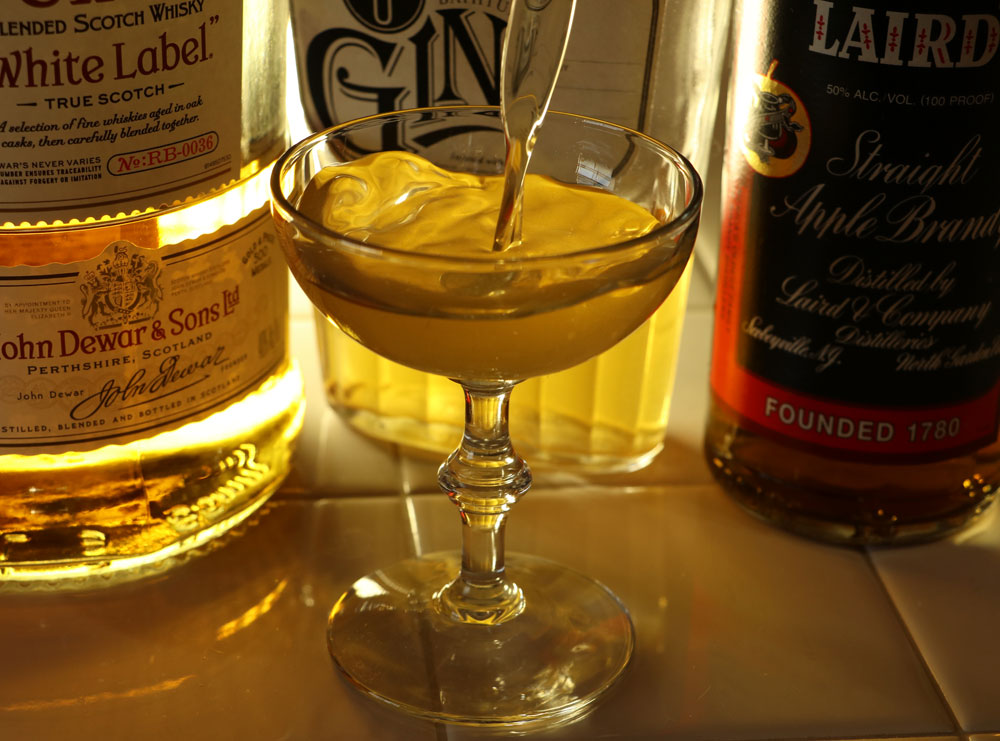 Having Scotch in it, I had high hopes for the Barton. Alas, this mixture of Gin, Whisky and Apple Brandy was a disappointment. It could have been the Dewar's though I didn't get any medicinal notes coming through. It could also have been the added dilution from the shaking. We opted to add ice to the shaker to cool the drink down but Mr. Boston's recipe doesn't note ice. Maybe that was a misstep on our part.
I ended up trying to improve the Barton with a slice of fresh lime peel and a dash of Benedictine. I think it did help but it still wasn't my ideal beverage of choice 🙁
All and all, we had luck with 1 out of 3. Thankfully the awesomeness of the first cocktail outweighed the later two duds. In closing I thought I'd share a quote from the Here's How Book that tickled me: "Here's to prohibition enforcement; the results are staggering." – Cheers!