The closest connection between the name of tonight's Mr. Boston's cocktail recipe and the era with which the drink originated is a movie from 1917 titled "The Cold Deck."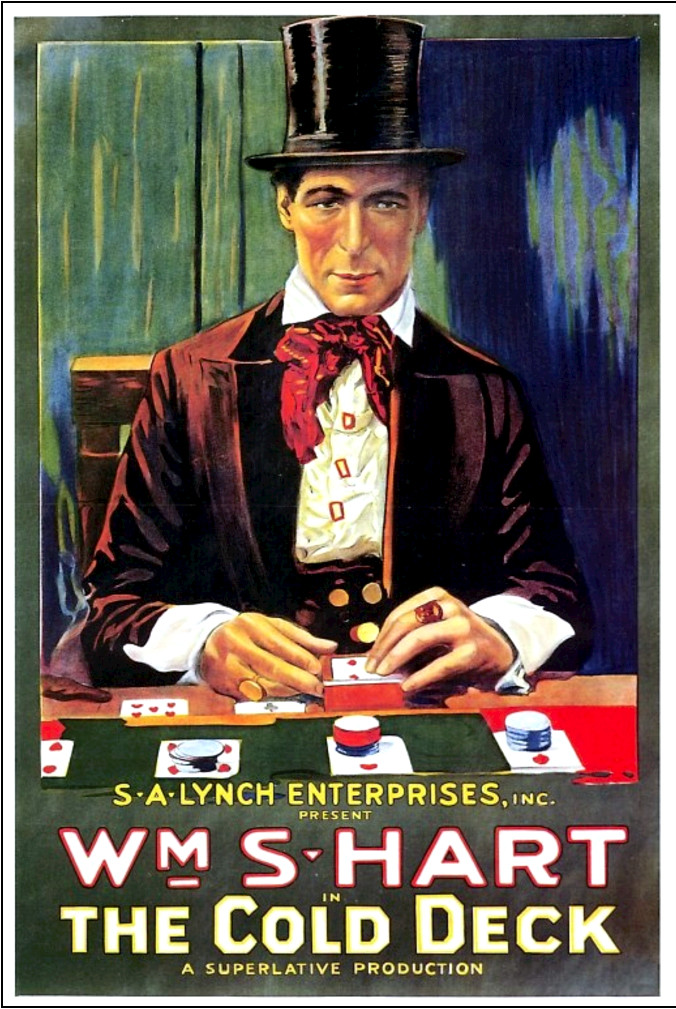 Starring William Surrey Hart, a popular silent movie star of the time, the Cold Deck appears to involve a gambler who is looking to raise money to help his seriously ill sister. The later plot line makes sense as the Cold Deck cocktail is rather medicinal to taste.
I first found this recipe published in Harry Craddock's Savoy cocktail book circa 1930. The Savoy and Craddock were both located in England during the time of publication but the movie was American. I can't tell if the film was popular across the pond so my only guess is that Harry was a fan.
Five years after the first printed recipe, Leo Cotton opted to switch the brandy choice in the Cold Deck cocktail recipe for Mr. Boston's Apricot Nectar. He also decided to downplay the Vermouth. I decided to give the "original" the first round as I'm a huge fan of Italian Vermouth and Apricot sounded a little odd.
The Savoy Cold Deck recipe went like this…
1-1/2 ounce Symbole National Brandy XO
3/4 ounce Tempus Fugit Creme de Menthe
3/4 ounce Antica Formula Italian Vermouth
As expected, this is one very minty drink! Thankfully, I'm a huge fan of mint but even still this is overall flavor profile of the Cold Deck is very medicinal.
Out of curiosity the Mr. Boston recipe from 1935 begged to be tried. This time I scaled the drink back just in case I hated it.
Ryan was kind enough to help me out and mixed up the version Leo Cotton published as follows:
1/2 ounce Apricot Brandy
1/4 ounce Tempus Fugit Creme de Menthe
1 teaspoon Antica Formula Italian Vermouth
To my surprise, I really enjoyed the Apricot version. The balance of the fruit and mint is delightful. Despite the mint quantity being identical, the Apricot tones it down. Bravo Mr. Cotton!
The Cold Deck cocktail is proof that you can't always judge a book by it's cover. Sometimes you have to give it ago despite your initial apprehension. Lesson learned 🙂