I love the Brandy Alexander Cocktail, so when the Alexander Cocktail popped up on Mr. Boston's list I expected Brandy to be a key ingredient. Low and behold I was surprised and excited to learn that this Alexander was Gin based!
Like its Brandy cousin, the Alexander is equal parts liquor, cream and Creme de Cacao. The recipe calls for sweet cream which caused some debate between Ryan and I. While Ryan thought sweet cream merely meant whole milk cream I wondered if the addition of "sweet" meant that sugar had been added as one would to make whipping cream.  I came to this conclusion because the next recipe on the list noted the use of fresh cream and isn't cream just cream?
Despite some back and forth, I decided to add a couple teaspoons of organic sugar to the recipe and give it a try. Combined with our home brewed Gin No.6, the result was delicious! Dare I say better than the Brandy version?
The drink is tiny, only 1 ounce total (perhaps a bit more one the ice melts during shaking). Being a bit of the heavy drinkers these days Ryan and I were not satisfied with just one and decided to mix up the next cocktail on the list aptly dubbed Alexander Cocktail No.2
Remember that I noted the No.2 calls for fresh cream and for this recipe I left out the extra sugar and went straight by the book. The Alexander Cocktail No.2 replaces Gin with Apricot Nectar but creates another 1 ounce after dinner drink.
Perhaps it is the natural sweetness of the Apricot Brandy but the No.2 did not need any additional sugar to bring it to life, it is fantastic! Great things do come in small packages and the Alexander Cocktail No.2 is desert in a shot glass if ever I tasted it, you have to try this! (Quick tip: Adding a sprig of Rosemary is a nice addition to this drink)
Since there are three Alexander Cocktails it seemed unfair to stop at two. We had to give Alexander's Sister Cocktail a try and so we did.
Being that the first two Alexander's were such a success I fully anticipated that Alexander's Sister cocktail to be just as good. Like her brother, Alexander's Sister Cocktail calls for Gin and cream but rather than the traditional Creme de Cacao, this cocktail requires Creme de Menthe.
We didn't have the clear version of Creme de Menthe handy but since the recipe didn't specify we figured that our green bottle would do in a pinch.
Unlike the Alexander Cocktail, this version only asks for 1/3 cream, not fresh, not sweet, just cream. While the No.2 omitted shaking over ice, the Alexander and the Alexander's Sister both note shaking the 1 ounce of liquid well with cracked ice before straining the drink into a 4 ounce stemmed cocktail glass.
After following the instructions our Alexander's Sister poured forth from the shaker a unappealing toothpaste colored green. Imagine a blended gremlin after drinking too many Piña colada's… yeah, it wasn't pretty!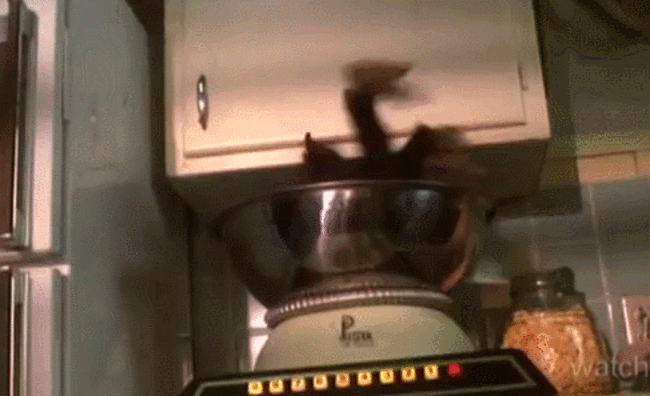 It didn't taste much better. This drink could have benefited from that extra 2 teaspoons of sugar I added to the Alexander. It was medicine like in its mintiness and reminded me of stomach acid tablets, yuck! Definitely not a fave for either Ryan or I.
Disappointed that Alexander's Sister did not live up to its predecessors, I sought out a replacement using fresh spearmint and cane sugar instead of the Creme de Menthe. My experiment paid off! Turns out that nothing beats fresh mint and Gin. Throw in a splash of Absinthe and it's a home-run! If you like mint ice cream give this drink a go sometime, you won't be sorry 😉