We're experiencing unseasonably warm weather in Las Vegas. I'm sure that sounds funny to anyone who doesn't live here but temperatures above 110 usually stop by the middle of August. The last few days have been warm enough for the National Weather service to issue excessive heat warnings if that says anything.
After a hot day at our warehouse, Mr. Boston's Claret Cobbler recipe hit the spot. I really enjoyed pool lounging with the Brandy version a while back and had a sneaking suspicion that tonight's recipe would be right up my alley.
Using only one spirit, the Claret Cobbler is hardly what I would consider a cocktail. The hardest part of the drink preparation is the dissolution of 1 tablespoon of powdered sugar in 1/4 teaspoon of water. Like the Brandy Cobbler, tonight's recipe relies on the presentation rather than the sum of its ingredients.
We purchased a new tool since the last Cobbler cocktail. The Vitamix blender Ryan bought me does all sorts of handy things and came in useful for turning my crushed ice into powdered snow.
Not only was the ice easier to pack into my Delmonico glass, I was also able to hand form a cute snowball for the top.
As we poured the dark purple liquid over the snow white ice, the transformation reminded me of a Snow Cone. It was fun to watch the color flow down the glass and color the ice. Almost as fun as drinking the cocktail!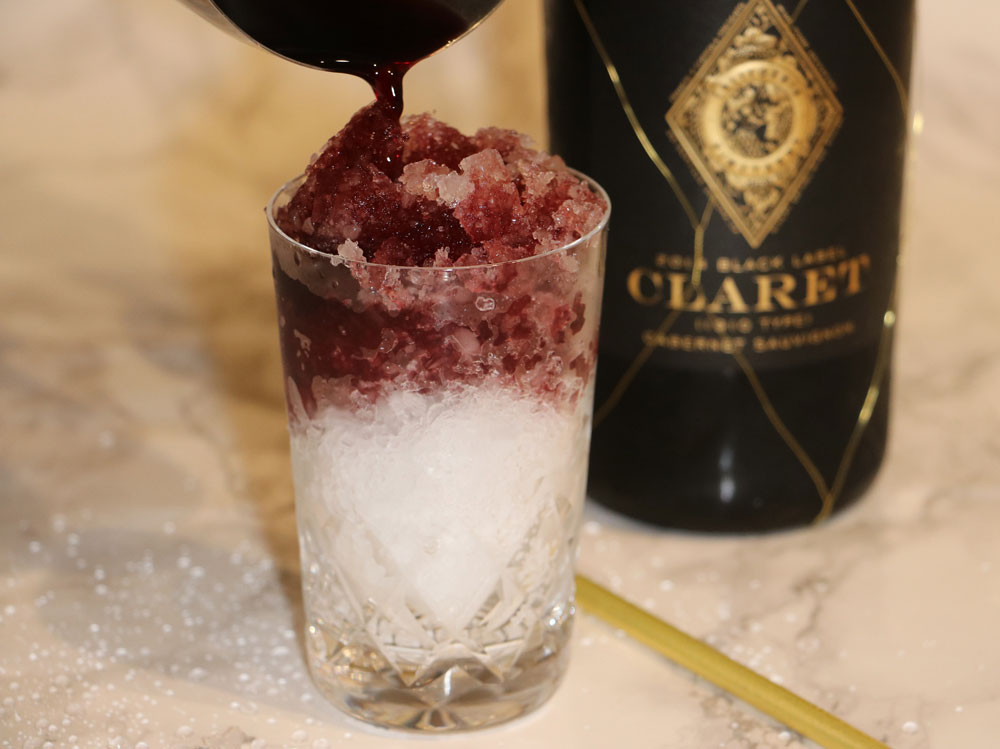 The fruit garnish and straw are integral parts of what makes a Cobbler cocktail. Thankfully, I have a stack of gold straws from the last time and didn't need to run all over town seeking them out. For fruit, Leo Cotton noted the use of Pineapple or Orange slices. Being an overachiever, decided to use both 🙂
The final drink is good, though after seeing a recipe from Gordon Ramsay's restaurant using Raspberry syrup, it was decided that a 1/2 ounce of Creme Yvette should be incorporated into tonight's Claret Cobbler.
The final recipe fore-which I am currently enjoying is:
1-1/2 ounce Claret (Francis Coppola)
1 teaspoon of powdered sugar
1/4 teaspoon H2O
1/2 ounce Creme Yvette
Garnished with a slice of pineapple and orange
If you're ever in the mood for an adult Slurpee, I'd say this will hit the spot. The color of the Claret is lovely for hosting a party and the taste is sure to impress your guests 😉