Like an aging Elvis in a tight black velvet jumpsuit, our first attempt at Mr. Boston's Black Velvet Cocktail was a disaster!
From the start, I did not hold much hope for a drink that blended equal parts of Champagne and Stout. I love me a good Stout and can't imagine life without Champagne, but for me the two should not mix.
When I first noticed the Black Velvet recipe I turned to Google for help with a Stout choice. I wanted to keep this drink authentic to the period and hoped to find a Stout that was still in existence from 1935. Anheuser-Busch was a known entity in America during the 1930's. The company actually played a key role in the Volstead Act. But as much as I enjoy an ice cold Bud, I don't consider the pale ale a Stout.
If you ask most bartenders on the Vegas Strip for a dark beer, Guiness is usually the blackest they have available. As native's of the Pacific Northwest, we find this to be extremely funny. We were raised on craft Stouts that could stand a spoon on end. Yet like Anheuser-Busch, Guiness has become a staple Stout of the U.S.A. So naturally I thought perhaps, this is the brand that would have been used for the Black Velvet.
My Aunt Pat had shared an Extra Stout version of Guiness and we really liked it. I decided to try our little experiment out with this dark brew mixed with the bottle of Barefoot Cellars Brut we'd opened for our Alfonso Cocktail in April.
Mr. Boston's recipe calls for 1/2 Stout, 1/2 Champagne served in a 10 ounce glass. Logically thinking 4 ounces of each would give the head of the beer room to fill the glass, that is what we decided to do.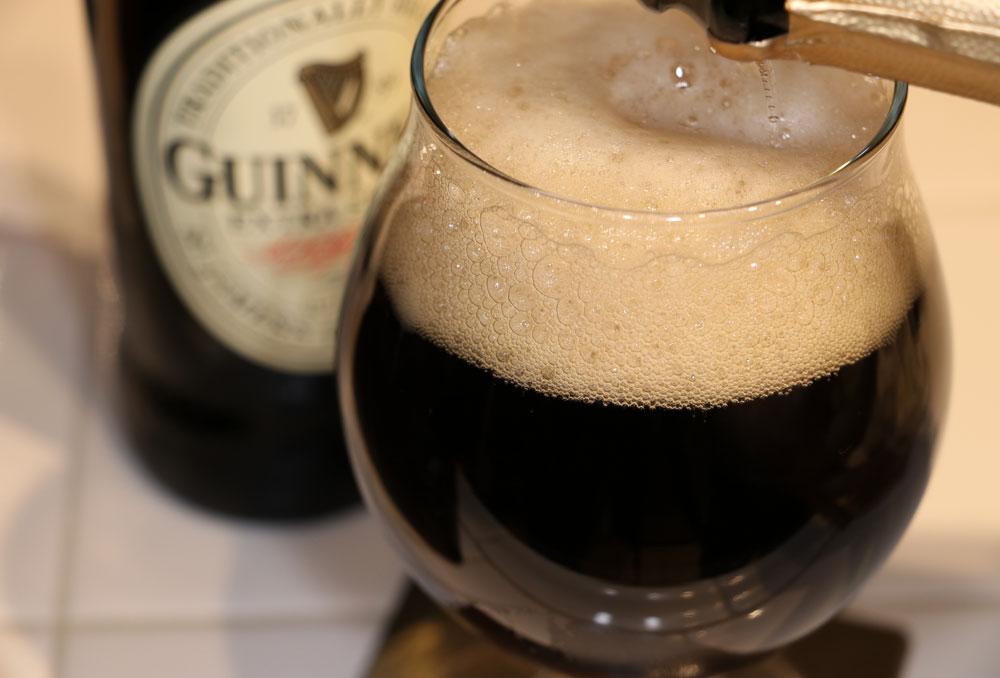 We should have done a sample test before going all in on the Guiness / Brut Black Velvet! Words can't describe how vial this combination tasted. For lack of a better description it was like drinking blood. Metallic, bitter and just plain disgusting 🙁 In fact, if Ryan hadn't stopped me, this drink would have been tossed down the drain immediately. Worst Cocktail I've ever had the misfortune to try... Never again!
Well, I guess, never say never. Our first crack at the Black Velvet was nearly two months ago and with today being the day to share it with the world, I was compelled to give it another shot. A much, much smaller shot.
I didn't care for dark beer until discovering Coffee Milk Stout from Stone Brewing. The blue gargoyle'd bottle only appears on supermarket shelves once a year but it is sooooo worth it! Miraculously, we managed to practice shelf control and hang on to one bottle from the holidays.
Being slightly sweet, I thought that this Stout may actually work with the Barefoot Cellars Extra Dry Champagne we had purchased. I feared the coffee could conflict with the Champagne but didn't think it could be any worse than the Guiness Black Velvet Cocktail was. Learning from our mistakes, we mixed 1/2 an ounce of each ingredient to give a sample taste first. It worked!
I was totally shocked to discover that Stone's brew and Extra Dry Champagne complimented each other quite nicely. I would never have guessed that in a million years. It worked so well that Ryan made himself a full-sized version to enjoy with lunch. Personally, I still enjoy the Stout and Champagne a bit more on their own, yet today's Black Velvet was drinkable and even enjoyable when really cold. As it warmed in the glass, the mix wasn't really great but that goes for any beer really.
The fruity sweetness of the Champagne transformed the strong fermented hops into a proper cocktail. It was lighter, smoother and mellowed out the bitter coffee notes. I could see none dark beer drinkers enjoying this cocktail.
Out of curiosity, I consulted both Staub's and Ensslin's cocktail books for a variant of the Black Velvet. Neither book had the recipe. I did however stumble onto a Wikipedia article that credits the drink to a bartender from Brook's Club in London. Apparently the drink was meant to mourn the 1861 death of Prince Albert who was the husband of Queen Victoria's (the current queen mother's great, great grandmother). Perhaps the drink was supposed to make you cry?