Fun measurements make their return in tonight's Mr. Boston's recipe, the Cardinal Punch.
I reached out to a historical drinking expert in the hopes of figuring out what "a glass full" may equate to in this rather large recipe. Unfortunately, the drink's time is up and I haven't heard back from the keeper of the knowledge I seek. So, I'm going to wing it!
The Cardinal Punch cocktail appears to be a rather old one however, I haven't uncovered the book it originated from. The oldest record of the name I found was on a Christmas menu from 1893. San Antonio's Menger Hotel seems to have hosted a special holiday menu which included tonight's punch. I have no idea if the recipes were the same but it does appear that the Cardinal's was a Yule Tide drink as it also appeared in a 1903 holiday article.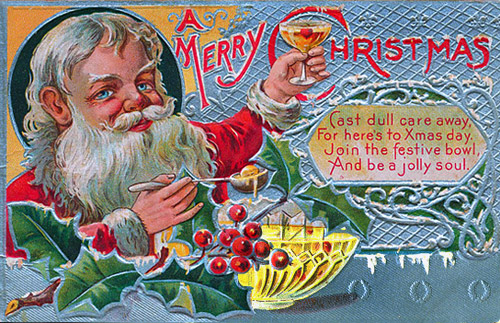 During our time at Tales, it was brought to our attention on more than one occasion, that the word punch is derived from the Sanskrit word for five (pañc). It is believed that punch recipes were originally made using five key ingredients: alcohol, sugar, lemon, water, and tea or spices.
The recipe Leo Cotton published in 1935 does not conform to the rule of five. At least, it doesn't seem to. This boozy, sparkling punch incorporates four different spirits, sugar, no lemon, and water. I suppose if you view Vermouth as the needed spices, that could count for one of the missing pieces.
I needed to shrink this one down so that we didn't make a massive bowl to try and split between two people. Ingesting 3/4 of a pound of sugar tonight really didn't sound like something I wanted to do.
My head has been pounding all afternoon, thankfully my Brandy Punch trial weeks back came in handy for converting tonight's drink. The final recipe I came up with looks like this:
2/3 ounce Sugar (4 teaspoons)
2 ounces of Sparkling Water
2 ounces of Claret (Francis Coppola)
1/2 ounce of Apricot Brandy
1/2 ounce of Rum (Eastside Distilling's Below Deck Rum)
1/2 of Sparkling White Wine (Faire La Fete Brut)
1 teaspoon of Italian Vermouth (Antica Formula)
The final volume was larger than my little vintage punch cup could hold. Almost double, which worked well for giving both Ryan and I something to sip on. I should have dissolved the copious amount of sugar in the sparkling water prior to adding it to the mixture of liquor. Having done the opposite made dissolving the granules nearly impossible. I think that was OK though because the Cardinal Punch I mixed up was a bit too sweet.
The Apricot made this cocktail delightfully fruit forward and the sparkling ingredients gave it a refreshing quality. It is a really good drink, but the sweetness needed to be scaled back with more white wine. Water would probably have worked also but the wine adds another layer that I really like.
Next time I make this Punch I think I'll drop the sugar down to 1 teaspoon and upped the wine to a jigger. That should be just about perfect.