As I continue through Mr. Boston's 1935 cocktail book, I'm finding that there is a lot of misinformation floating around the drink world. On the heels of the Aviation mistaken Blue Devil, comes yet another recipe many bloggers misdescribe.
The Blue Moon doesn't appear to have much history behind it. It is however, another blue drink that isn't actually blue. As such, digging ensued to expose the mystery behind the moniker.
Early in my hunt, I found a recipe that declared Hugo Ensslin's 1917 Blue Moon Cocktail earned the name for its use of "Blue Moon Gin." I was excited to have solved the puzzle so quickly! If the Gin brand was really called Blue Moon that would have cleared everything up. Oh happy day!
I found my handy PDF copy of Hugo Ensslin's 'Recipes for Mixed Drinks' and flipped over to page 9.
Sadly, the recipe only says 2/3 Gin. No mention of any specific brand. I found that funny since Hugo mentions El Bart Gin several times throughout the book.
Drats! Back to square one. 
The oldest Blue Moon Cocktail recipe I could uncover was the 1917 version. It consists of Gin, French Vermouth, Orange Bitters and a dash of Creme Yvette. Imbibe Magazine did a piece on the subject back in 2013.
The author, David Wondrich, shared a great story about the history of a New York hotspot named Joel's.  Popular between 1900 and 1925, Joel's house drink was, according to David, called the Blue Moon. It was apparently described by patrons as
"anywhere from Prussian blue to a purple so deep that it left a persistent stain on anything it spilled on."
There is also mention of the cocktail being:
"slightly sweet, fragrant, high powered in action,"
Not much to go on as far as the ingredients go. No recipe is given.
In the same vein as the Blue Devil Cocktail, today's experiment has many recipe variations circulating around. The "blue" part of the name seems to once again be causing confusion with drink enthusiasts.
For the purposes of my blog series, I decided to forgo logic and drink the Blue Moon recipes as they were published by Leo Cotton and Hugo Ensslin. Both cocktails gain their coloring from Creme Yvette and not the Creme de Violette called for throughout the web. That means both of my Blue Moon's were actually more red than blue.
On the red scale, I would describe Creme Yvette's shade to err on the blue side of the spectrum. When paired with our home brewed compound Gin, the cocktail did have a bit of a glow about it. But, that is where the comparison to the name stopped for the Mr. Boston's recipe.
To taste, it was a very nice way to enjoy last night's sunset. I really, really enjoyed the combination of berries and botanicals. So much in fact that the tiny 3 ounce cocktail left me wanting more. I think this one might benefit from a supersizing 🙂
For fun I added 1/4 ounce of Creme de Violette to the Creme Yvette, Gin cocktail hoping it would add enough blue to the drink.
The result was more purple than blue, but I think I preferred the flavor. The floral Violet liqueur added just the right somethin' somethin' to the cocktail. I'd say it almost mirrored the description given by Joel's customers… sweet and fragrant.
I didn't have the required Claret Wine to try Hugo's pre-Prohibition recipe on for size. So, this morning we made our way down to Total Wine grab a bottle.
It was a little strange trying Tequila before having lunch but when in Rome!
During my initial shopping list phase for this blog, I identified Francis Coppola's Claret to be a good fit for the series. The red wine received fairly good reviews for a $12 and I decided to give it a shot. In writing this, I'm wondering if the color profile of the blackberries and plum listed on Newton's Claret might have been a better fit for the "Blue" Moon – Hummm….
I really didn't know much about Claret wine before today. It must have been popular, the drink has it's very own glass named after it.
Wondering about Claret's color (I assumed red but was curious since it was noted in the Blue Moon recipe,) I stumbled onto a couple articles which lead me to believe all Claret wine is of the Burgundy or Bordeaux varietal.
After reading this, I walked straight to the Bordeaux section of Total Wine expecting to find my Claret. When Ryan and I couldn't find it, we asked an associate who told us that Claret's can be made from many different types of grape and thus are not located in just one area of the store. The brand I wanted was actually over with the Cabernet Sauvignon selection – go figure!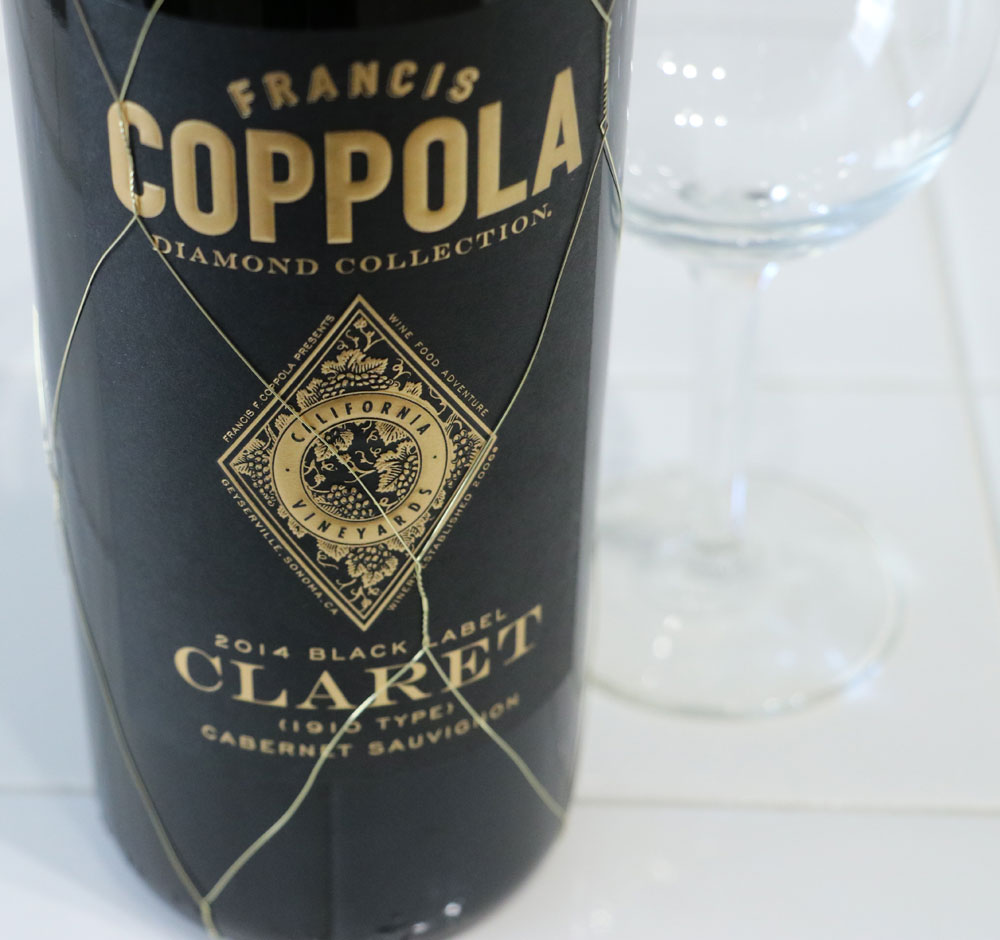 Ryan had an appointment this afternoon, so my Blue Moon Cocktail tasting was delayed until his return. This gave me time to flush out my thoughts on the subject. I'm finding that this passion project of mine is becoming an all day task! Not really great for getting business stuff done during the week and a little scary for when the holiday season comes knocking. But it's tons of fun 🙂
Back at the house, we got to work on the Blue Moon from Hugo's book. After clicking some photos of the Coppola bottle, we mixed up the 1 ounce Gin, 1/2 ounce French Vermouth, dash of Angostura Orange Bitters and 1/8 teaspoon of Creme Yvette.
Before adding the Claret, the Blue Moon looked like a regular moon… pale yellow.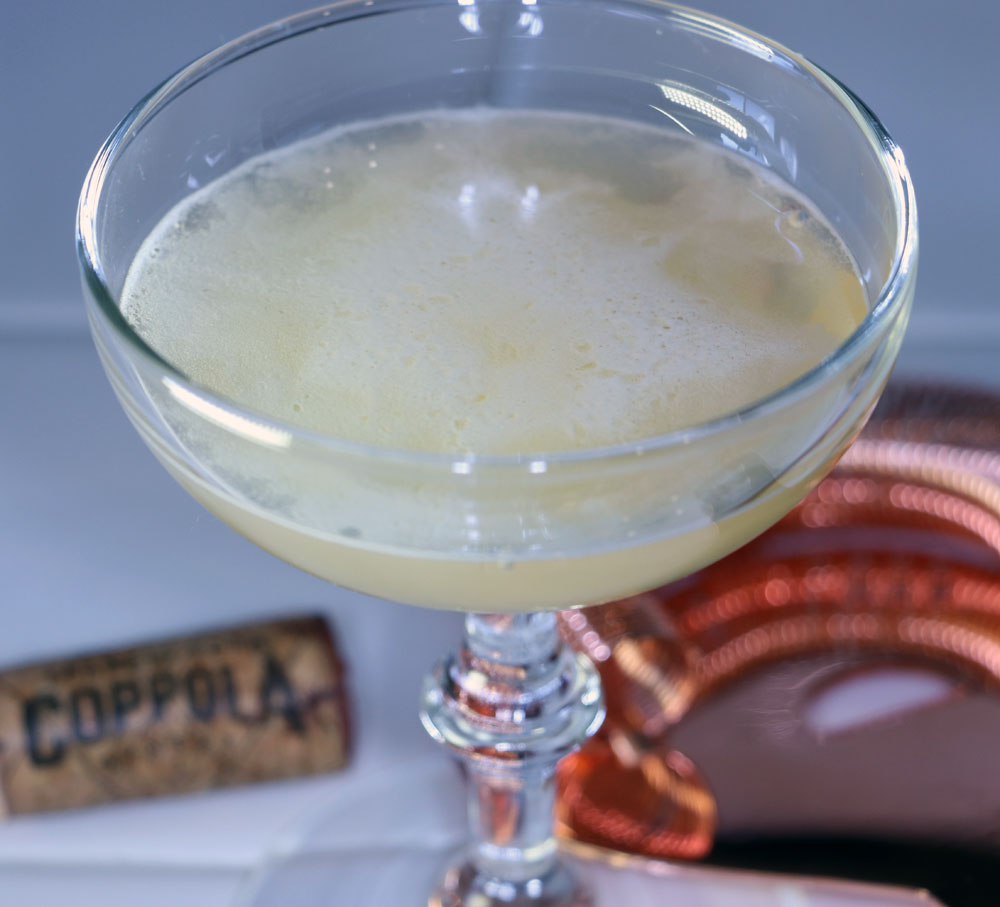 Ryan topped the glass off with Claret as Hugo Ensslin's recipe required and the drink was transformed into a deep purple worthy of David's description.
For those of you who are curious, Claret wine tastes much the same as a good Cabernet. It is not sweet but not as Oaky as a Merlot.
To taste, both Ryan and I preferred the Blue Moon recipe from Mr. Boston's book with an additional 1/4 ounce Creme de Violette added. The 1917 version as good but I liken it to an unsweetened Sangria. It was lacking oomph for me.
Until tomorrow, Cheers!