Many of the recipes we've tried thus far, have lasted the test of time. Others appear to have taken many years to evolve. Mr. Boston's next recipe, The Beauty Spot Cocktail, seems to have taken yet another path.
As our 1935 cocktail adventure continues, I have grown accustomed to consulting two older cocktail books before plunging into a new Mr. Boston's recipe. If I hadn't discovered Jacques Straub's 'Drinks' cocktail book from 1914 I may have never known that the original Beauty Spot Cocktail was much different from the version Mr. Boston's published 21 years later.
While the Aviation Cocktail seemed to have evolved as a result of Prohibition*, I can find no logical reason for the Beauty Spot to have been altered. The ingredients listed in the 1914 are fairly straight forward: Gin, Italian Vermouth, French Vermouth, orange juice and Grenadine. Yet only 3 years later, the recipe appears to change forever in Hugo Ensslin's 1917 'Recipes for Mixed Drinks'.
Both Mr. Boston's and Mr. Ensslin's books share identical recipes for The Beauty Spot Cocktail. This seems a rarity between the two publications. A mixture of Gin, foamy egg whites and grenadine; the "newer" recipe could not be more different from the cocktail published in 1914.
I've been working on a piece for Tales of the Cocktail about compound Gin and decided to use the Beauty Spot Cocktail as my guinea pig. Having loads of experience mixing drinks using with our home brewed compound Gin, I wanted to see what commercially available compound Gin options the liquor store had to offer.
It still surprises me that the employees at Total Wine don't yet know us by name. I hope normal drinkers aren't in the store as often as we are! At least we seem to be racking up the member rewards points 🙂
As we made our way to the Gin section, there was a sea of brilliantly labeled gems waiting to be discovered. I had hoped to review a few brands online before getting to the store but Total Wines's website did not distinguish between compound and distilled Gin. Alas, I had no idea if they even offered said beast in-store.
Thankfully, there were two varietals to choose from.
Both shared a deep yellow hue in line with our Gin No. 6 but one appeared to have the color enhanced either through the glass coloring or artificial means. Without tasting the two it was tricky to determine which may taste the best. However, having spent the last three plus years developing our palette for herbs, we were able to gather a pretty good idea of each by the ingredients listed.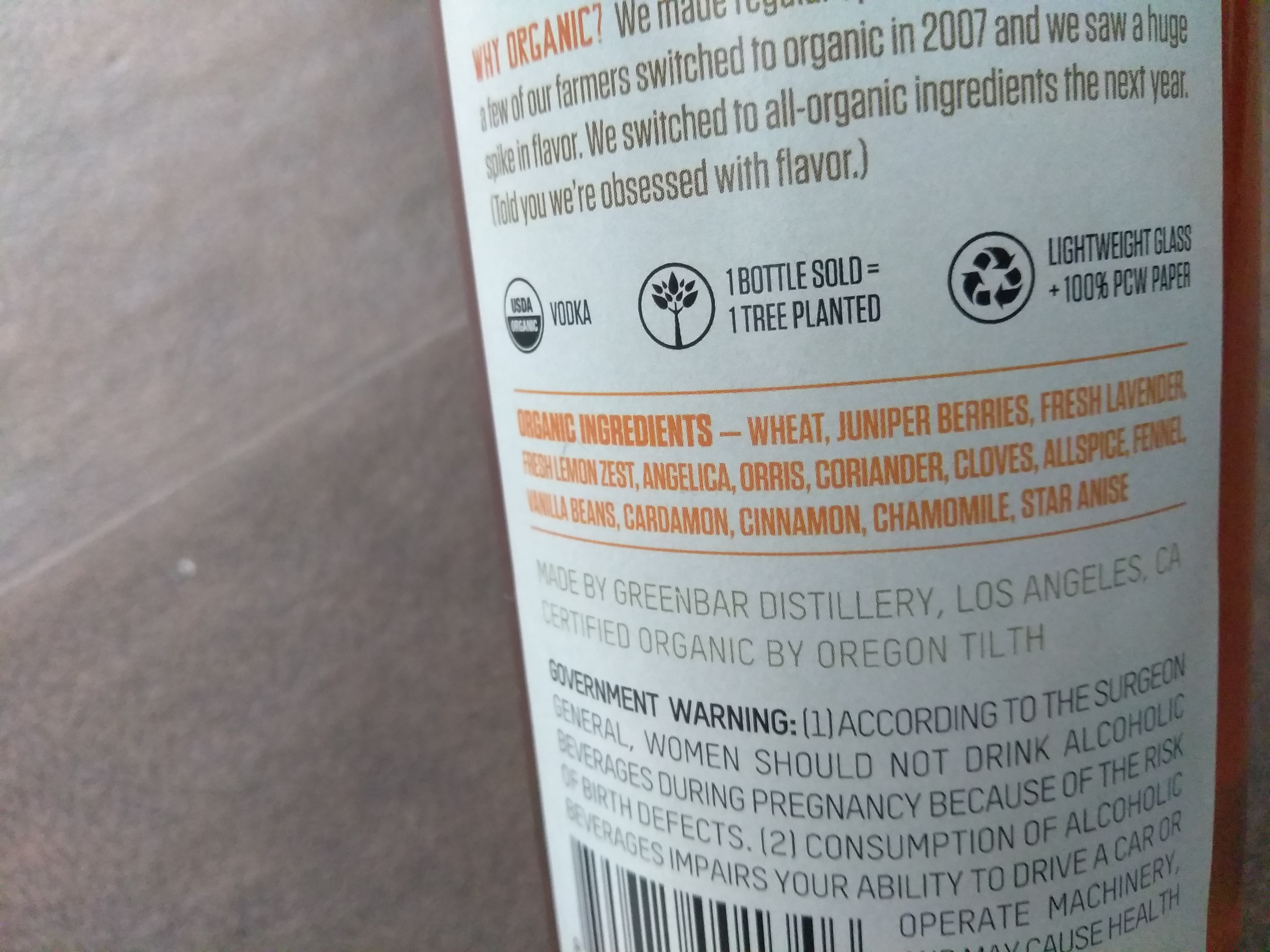 Ultimately we decided to give Tru Organic Gin by Greenbar Distillery a try.
From the bottles description: "Its complex flavors and storied look result from a 16th century technique that pre- dates double distillation and requires a full two months to make. This spirit offers a rare look at gin's origins and makes for fine sipping and farm-to-glass cocktails" and listed ingredients of: Wheat, Juniper Berries, Fresh Lavender, Fresh Lemon Zest, Angelica, Orris, Coriander, Cloves, Allspice, Fennel, Vanilla Beans, Cardamom, Cinnamon, Chamomile and Star Anise, we were excited to crack the bottle open and give it a taste.
To our delight, the Tru Organic Gin was very similar to our Gin in its strong, rich flavor profile. Both have prominent botanical notes though the Tru was slightly sweeter than our No.6 compound Gin. Other than Juniper, the lavender and star anise came forward in the Tru Gin where the Cardamom and Cinnamon often follow the Juniper in our Gin.
Furthering the experiment, we decided to mix each Gin with the two Grenadines choices we have on hand, Roses and a natural version from Small Batch.
Like our Bachelor's Bait experiment, the coloring was better with Roses. Oddly enough, while our Gin worked beautifully with Roses it did not taste great with the all natural Grenadine. Conversely, the Tru Organic Gin worked with the natural version by Small Batch but was overly sweet with the Roses. Those results begged for the Beauty Spot to be crafted twice using each Gin with its compatible Grenadine combination.
Our egg white foam was giving Ryan trouble and refused to fluff the way it was supposed to. It took a couple of tries to get the Beauty Spot Cocktails to cooperate and much grumbling from Ryan 🙂 Magically, he managed to get the job done and we successfully took a photo of the pair.
The egg white version of the Beauty Spot was not really a favorite for either of us. The Gin engorged foam was delicious but the overall cocktail was too sweet and honestly just so so to taste.
We saved the "original" (and best) Beauty Spot Cocktail recipe from the 1914 book for last.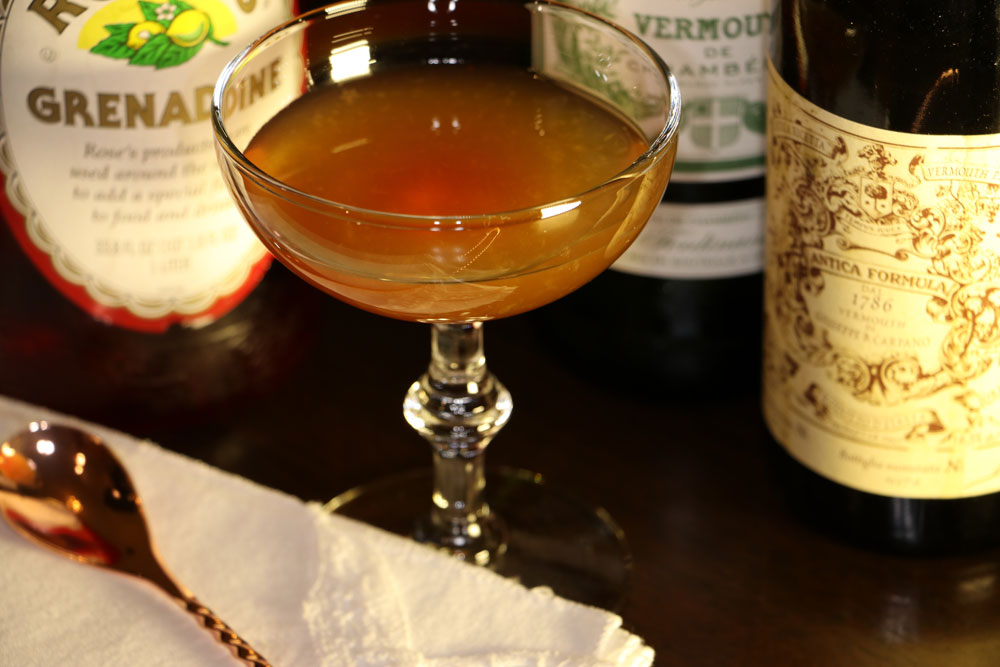 After squeezing some fresh orange juice, we opted to mix this Beauty Spot without ice as none was noted and because ice was likely less available during that time in history. Since no egg whites needed to be shaken, Ryan didn't have to kill his arms attempting the perfect foam!
The Gin, Vermouth's and OJ went straight into the 3 ounce stemmed glass and a dash of grenadine is added to the center to rest beautifully in the center, base of the glass. The name finally made sense! The touch of red amidst the orange hued cocktail was lovely and more importantly, this cocktail recipe tasted very good!
Given that the copyright for the 1914 book is well past expired, I think it's safe to post this recipe here for your drinking enjoyment. Why it was ever replaced with the foam version I will never wrap my head around. Somethings are doomed to remain unexplained.
*In writing this post, I discovered that The Aviation Cocktail recipe listed in 'Drinks' is totally different than any I've seen before. I'll need to try this new recipe out and add it to our story about the Aviation Cocktail later on.