Mr. Boston's is at it again! The next recipe is called The Apple Pie but the darn thing doesn't use a lick of Apple Liquor. I'm beginning to wonder if Leo Cotton edited this book whilst perpetually drunk 🙂 Why is Apricot Nectar the main ingredient in a drink called Apple Pie? I've racked my brain but I have nothing. If you have any thoughts I'd love to hear them!
Now we all know the key to a good Apple Pie is the obvious fruit (apple) paired with sugar, and traditional spices like Cinnamon, Nutmeg, and Allspice. Occasionally you might add Ginger or go wild with some Cardamom but Apples should be there, right?
That's why it was shocking to discover that this faux Apricot spiked "Apple Pie" Cocktail actually tasted like Apple Pie! It was really unexpected and quite good. The combination of the Serbian Apricot Brandy, lemon juice, Rum, sweet Vermouth and Grenadine paired perfectly. Today's Mr. Boston recipe for the Apple Pie Cocktail replaced Apricot Nectar with Apple Brandy. But I'm wondering if they were on to something back in 1935.
The natural Vanilla flavor in the Bacardi Gold Rum and the abundance of herbs used in Vermouth are most likely the key to creating this Apple Pie illusion. Vermouth is known to incorporate cloves, cinnamon, cardamom and ginger which all lend to a nice Apple Pie in the right quantity.
Though it is a stone fruit, I guess I can see where blending lemon juice with apricot and tart grenadine could mimic the flavor of an apple. This combination of ingredients makes up almost 1/2 an ounce of the drink while the Rum and Vermouth take the lead. It truly is a culinary mystery. One of the many reasons I think cocktails deserve the same respect given to french cuisine.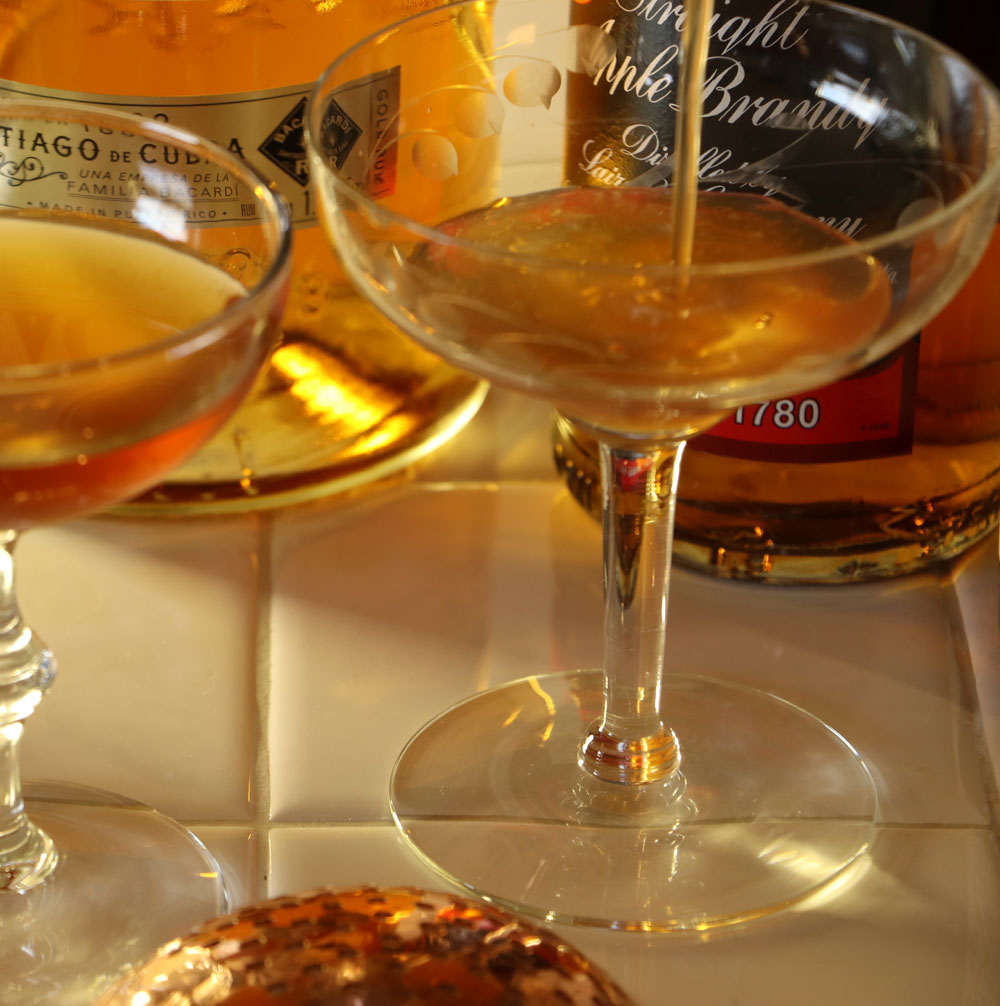 Out of curiosity, I went ahead and mixed up the same recipe with Apple Brandy per the new recipe. While the 1935 Apricot version tasted like a nice, sweet apple pie should; replacing the Apricot with Apple Brandy was harsh and bitter. In fact it tasted less like an Apple Pie… Mind blown!
Feeling a bit rummy and craving a slice of Lemon Meringue Pie (I blame the Great British Bake Off Marathon that ran during our trial! – Darn you Mary Berry!), I came up with the idea to make another pie flavored cocktail. Of course being a "Lemon Meringue Pie" this cocktail needed a blow torch to get the proper baked topping look. This made Ryan a happy camper 🙂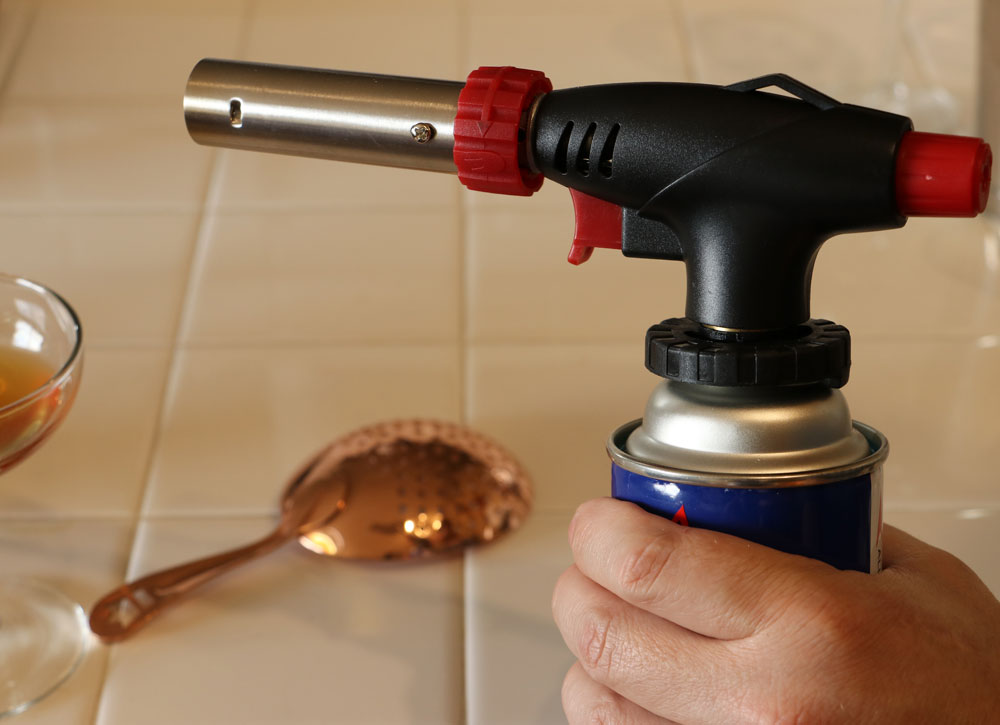 As a "crust" I chose Stroopwafel Liquor. It can be a rather strong flavor so this cocktail only needs a splash. My dry run used 1/4 ounce and I think that was still a little strong. For the lemon filling I blended 1 ounce of Limoncello straight from the freezer with 1 ounce of our Gin No.6 for some added botanical goodness.
Excited about our successful egg whites from the Apple Blow Fizz, we separated the whites of one egg into the shaker with the lemon liqueur Gin mixture and gave the combo a good dry shake. I'm not sure if it was the proof of the spirits or the amount of sugar in the Limoncello but the egg white didn't puff up as it had before. After adding the ice and giving another good shake, we managed to get a foam but it was weak by comparison. Adding Ginger Ale to fill the void in the glass brought the foam up enough to torch but I think we can do better. I really want to try this recipe a try with Champagne next time. Perhaps we'll try again once the bubbly starts flowing once more.
As feared, the busy work week is starting to take its toll. Fresh from vacation, I started writing away soon after getting home. I made great progress and managed to write a couple days ahead but sure enough, the week crept up on me. I'm super tired but at least this new hobby of mine has a prize waiting at the end of the day.
With a little luck and much more caffeine, this blog series will keep on track to the end. It should get interesting around the holidays though. But I'm bound and determined to make it to the end of this book, must be the Irish, Scottish combo in me! Might explain my love of drink too 😉