With all the Bitters options today, the options are endless for the Mr. Boston's next recipe.
The aptly named Bitters Highball is a really simple drink with a lot of character and barely any alcohol. In fact this 8 ounce drink only has .9% ABV – that is a basically a mock-tail.
While the 1935 recipe notes the choice of using Carbonated Water or Ginger Ale, we chose the later. Opting for Canada Dry, we stuck with "period appropriate" bitters and added a teaspoon of Angostura. The "serve with small bar spoon in glass" suggests this is a built drink. Our handy giant sphere cubes did a great job of keeping this creation cold without over diluting it.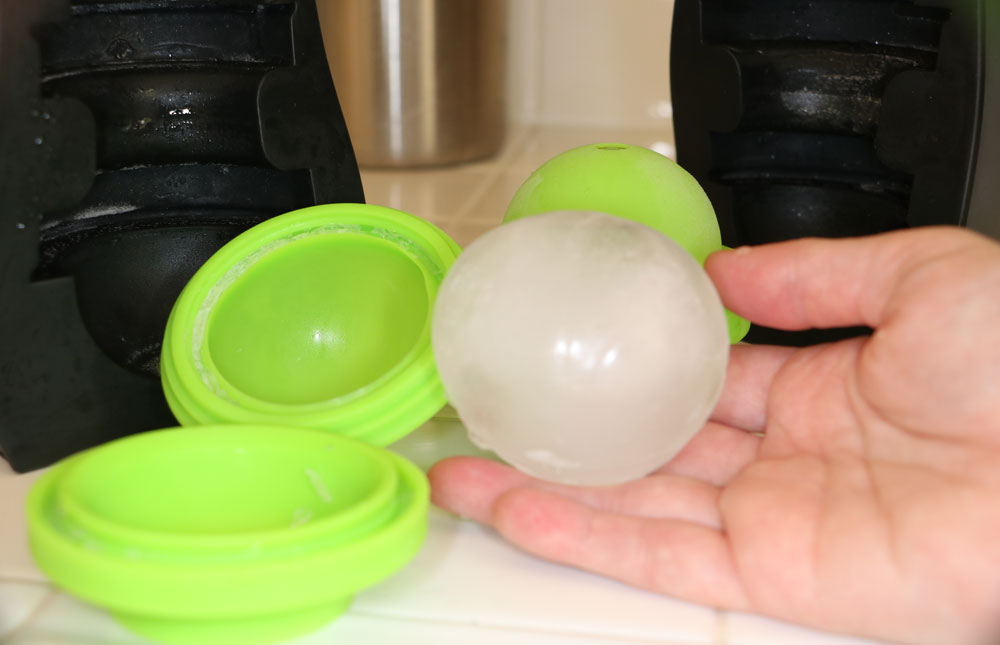 Ryan wasn't sold on this ice cube mold at first. It can be tricky to release the frozen spheres from the silicone cocoons. But it gets the job done and doesn't take up too much space in our freezer. We might give another model a go sometime but for now this one by Tovolo is doing the trick.
I think that the Bitters Highball has great potential for a come back especially with designated drivers.
While it isn't 100% non-alcoholic, it is almost there. In the United States beverages containing less than 0.5% are considered non-alcoholic. This percentage was established during Prohibition and has managed to stick around. You would need to drink over 7 of these cocktails to equal one Bud Light. Unfortunately you'd drink 788 calories to Bud Lights 99 but you'd well hydrated 🙂
The beautiful thing about this cocktail is that the presentation makes the drinker feel a part of the group. Instead of having to sip on water, or plain soda all night – you can fit in with a garnished "mock-tail" that looks the part. However, if you're looking for a full flavored cocktail in-line with say a Manhattan, an Uber can get you home safe and sound.
The new Mr. Boston's recipe online has greatly increased the amount of bitters. While the 1935 cocktail recipe calls for 1 teaspoon of bitters, the new version multiplied ingredient by 4.5 times! I don't know about you, but I think 3/4 of an ounce of bitters is way too heavy. Interestingly enough the online recipe doesn't mention a quantity of Ginger Ale or Club Soda while the original clearly states the use of an 8 ounce Highball glass.
While the botanicals within the bitters enhance the ginger ale, the mouth feel is worlds apart from a craft cocktail blended of Vermouth, Whiskey or Gin. Even Vodka adds a little extra something. It's so slight that most of the time you don't even notice it.
Though we chose to try this recipe with Angostura aromatic bitters, today's bitters world offers a vast array of flavors to choose from. Given the vague title of the drink, "Bitters" could mean just about any bittered herbal extract you like to try.
In putting today's Mr. Boston blog post together I stumbled onto a type of bitters I wasn't familiar with. Since Angostura and Peychaud's are readily available and have historical backgrounds that indicate they were always the bitters of choice, I just assumed that was all that was available at the time. Then along came Boker's Bitters.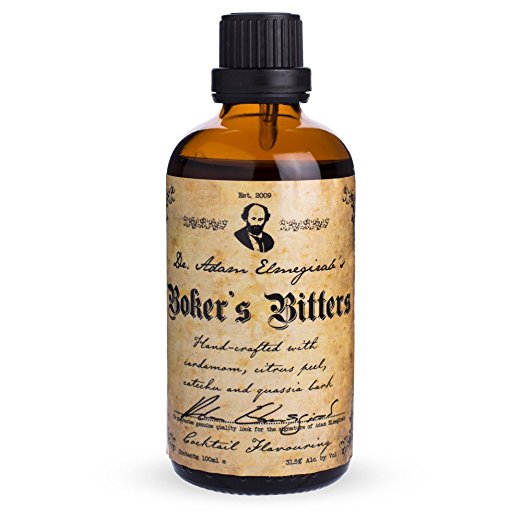 Reinstated in 2009 from a recipe originally created in 1828 by Johann Gottlieb Boker, today's Boker's Bitters are made in Scotland from "over proof spirits, water, herbs, spices, caramel and seven botanicals." Many reports I found note a strong Orange, Cardamom, Cinnamon and Clove essence. I stumbled onto these revitalized bitters while researching a drink I'll be writing about on Tuesday.
Boker's Bitters are pricey. While our trusty Total Wine doesn't carry them near us, they list the sales price at their other locations as $21.00 for 100ml (3.38 ounces)! I did manage to find a slightly less expensive option on Amazon at $17.26 and might have to splurge on that if I don't locate them locally.
I'll let you know a little more about these old-timey bitters when I'm able to get my hands on a bottle. Until then … Cheers!