When you have trouble remembering the days events, you have either had too much fun or too much to drink… in my case it is a little of both!
The second day of the Tales of the Cocktail started off quietly. After picking up our media credentials, we were too early to try out the first tasting event of the day and opted to grab a bite to eat at the famed Cafe' Beignet.
It is really nice to be centrally located for this huge event. Most of the tastings and seminars are in or near the hotel. A couple Lyft's were required to get too and fro but all and all, everything else has been a few steps from our comfy bed on the ninth floor. After all of yesterday's excitement, I've opted to kick my feet up for a few hours this afternoon. Ryan is always on the go and should be taking in a seminar on Chartreuse.
Yesterday's Breakfast was the beginning of a wild 16 hour day. The first stop was a quick tasting of Cachaça. You might remember me talking about Brazil's national spirit while trying out Mr. Boston's Brazil Cocktail a couple weeks back. Until writing about the 1935 Brazil, I was unfamiliar with this sugar cane distilled spirit. Unfortunately, I forgot to ask for a neat sample of the Cachaça by itself but did have the pleasure of trying it in Barmini's "Espuma" Cocktail.
Using Capucana's "Handcrafted Cachaça," the tiny 2 ounce cocktail packed a serious punch. I was tart, sweet and the Cachaça was very present. Honestly, I wasn't a huge fan of the cocktail but I did really enjoy the Passion Fruit Egg White Foam on top. I just wanted to smell it all day 🙂
From Cachaça we hoofed it a little over a mile to try our hand at crafting Ceviche while imbibing on Peruvian Pisco. Thankfully it wasn't too hot but we did start to melt a bit on the way.
Hosted by the Trade Commission of Peru in Miami, I can't say enough about how wonderful this luncheon was. Pisco is relatively new to us. We haven't had the opportunity to visit Peru either, it was a win, win!
The 4 hour lunch started with the Alliance Cocktail. Served in a large wine goblet, the refreshing summery drink was a mixture of fresh Strawberries, Ginger Leche, BarSol Pisco, Aperol, St. Germaine and Champagne. It was so good we needed another round.
Just before lunch was served, the guests made way to a cocktail making class and we were all introduced to Pisco's nuanced flavor profiles, tasting a few variants neat side by side. This class welcomed a Abeja Limena (Pisco, honey syrup and Yuzu) and a Passion Punch (Passion fruit juice, Pisco, syrup and Orange Juice)- I hope we wrote those down correctly, we were pretty high on Pisco at the time 😉 Both were incredible!
For lunch, our hosts treated us to Peru's signature dish, a chinese influenced Steak served over rice with tomatoes, sauteed onion and peppers. The meal was presented with a small After Hours Cocktail mixed from Pisco Quebronta, Creme de Cacao (Tempus Fugit), fresh lime juice and topped with nutmeg. I was surprised to find out that this drink did not have Ginger in it. I really reminded me of a Mule Cocktail.
I could go on for day's about our Pisco adventure, I think I may have to revisit it sometime soon to keep this post to a manageable read.
Instead of trying to make our way back to the Hotel by foot, a Lyft car swung by to whisk us back to tale end of the Opihr Global Oriental Spiced Gin competition.
We were a wee tardy and only had a couple minutes to do some sampling. That was OK by me as my stomach had started to wage war from my earlier booze adventures.
I have to note that Opihr is the most unique Gin I've ever tried. The Cumin was a little heavy and seemed to be tricky for the contestants to balance out. I have to agree with the judges that the coffee based drink worked best of the lot. Almost a Chai like cocktail.
From Gin we made way upstairs to try out some Spanish Brandy. The star of the event for me was Dead Rabbit's take on Torres Brandy. The head bartender from New York married Brandy, smoked pineapple and Old Fashioned bitters with an over-sized square ice cube. It was fantastic.
As I mentioned earlier, Ryan is always on the go. While I would have been content to chill out a couple minutes before our scheduled interviews, Ryan wanted to try and make way to a private Pisco tasting at Catahoula.
It was the middle of the day and it's New Orleans hot, so we grabbed a couple sparkling waters for the long walk. Lesson #1… never try and open a warm, fizzy drink while dashing through uneven stone sidewalks if you don't intend on getting wet!
I had primed and prepped all morning to look presentable for the days events. With my important meetings only an hour away, I didn't want to arrive looking like a drowned rat. In Vegas, my thin green blouse would have dried in five minutes or less. Not in New Orleans! That humidity kept things moist for the entirety of the walk. I swear passersby thought I was super drunk. I was a hot mess 🙁 Thankfully, my shirt had fully dried before reaching the Bourbon Orleans to meet up with Vance and Ashley.
Vance represents one of our favorite brands, Drambuie. When we received the invitation I had to meet the man. What an awesome job he has, traveling around sharing the deliciousness that is said to have been brought to the world by Bonny Prince Charlie in the late 1700's. I have the full interview on video but will have to upload it when we get back to my office editing computer.
With the goal of helping Drambuie find a place in today's drinking scene beyond the Rusty Nail, Vance mixed us up a Drambuie Collins. The light, bubbly cocktail incorporated Grapefruit juice, mint leaves Drambuie and light ale.
Ashley Marsh represents Sailor Jerry's Spiced Rum. The brand crafts all their Rum in the United States and sources the glassware and labels in the U.S. as well. Ryan and I were incredibly impressed with the companies dedication to their Made in the U.S.A. image. As a small manufacturer, we know how hard that can be!
Before sitting down yesterday, I asked Ashley to help me out with my Mr. Boston's recipe, the Brown and/or B.V.D. Cocktail. Ashley took my request to the next level and instead of simply throwing the ingredients together, she explored various Gin and Vermouth combinations for me. Now that is dedication my friends!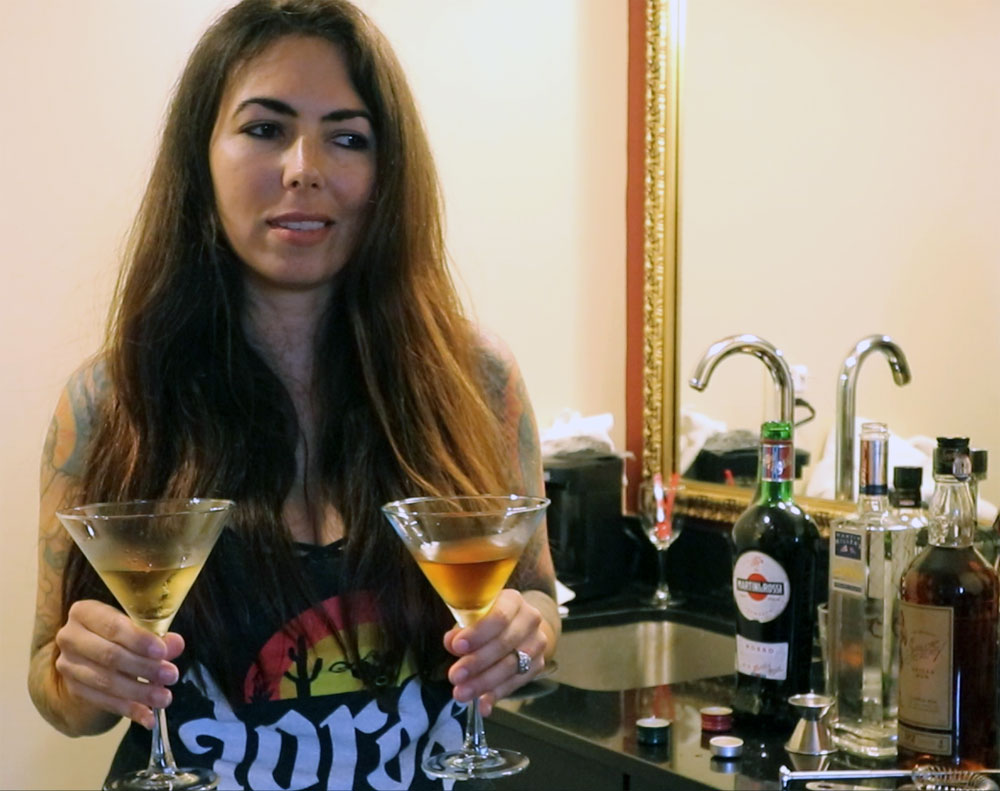 Like Vance, I have Ashley on tape mixing up the Brown recipe two ways. I'll be doing a follow up on the drink when we return on Monday. All of her hard work deserves a proper write up.
Until then… Cheers!