Yesterday's cocktail duo lacked intrigue. Thankfully, today's Mr. Boston's recipe is chock-full of it!
Is it Punch or Punsch? That is the question of the day.
I'd never heard of Swedish Punsch until running into the 1935 recipe for the Biffy Cocktail. Nor am I certain that our experiment last night was even accurate.
Mr. Cotton's Biffy Cocktail calls for a blend of lemon juice, Old Mr. Boston Dry Gin and Swedish Punch. No, that isn't a typo, the book spells it PUNCH.
Yet, all I could find in my quest for knowledge is Swedish Punsch, a traditional Scandinavian liqueur made of arrack, sugar, water and brandy or rum.
Not only was Swedish Punsch all I could locate, but there is apparently only one brand within 400 miles of Las Vegas, so that is what we ended up purchasing down in Costa Mesa.
Kronan revived the spirit after it fell out of the U.S. market following Prohibition. The bottle reappeared on American liquor shelves circa 2012 but still it hasn't seemed to catch on.
While price shopping, Ryan and I sought out Swedish Punsch at a local liquor store called Lee's. Though the store associate was able to locate 1 bottle in the computer, the three of us had a heck of a time playing hide and seek in search of the lone bottle.
Part of the trouble was, none of us knew what the stuff was and thus had no clue where in the sea of spirits to look. Eventually, the black labeled bottle was discovered on a low shelf among the Absinthe and various French Liqueurs.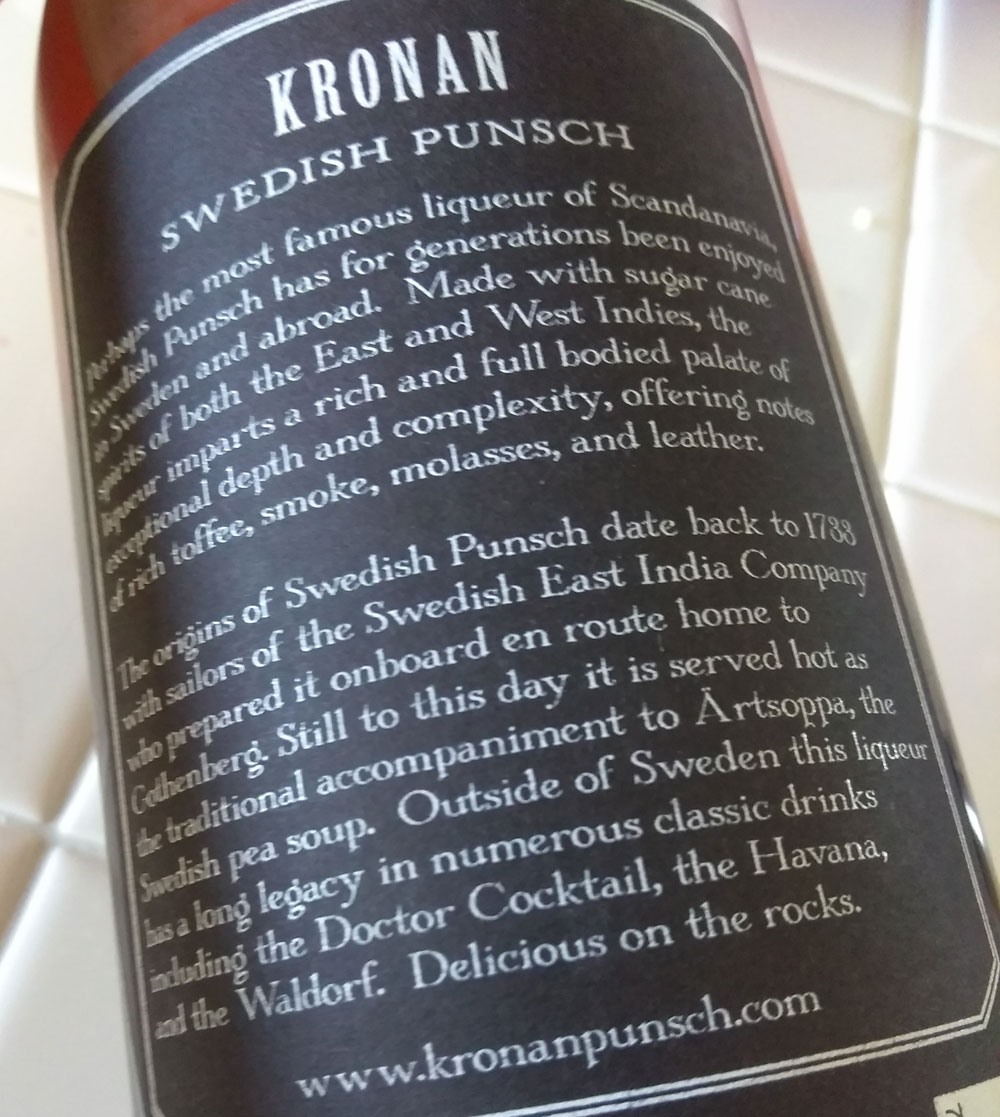 Described on the bottle and website as a "full-bodied rum palate with complex notes of toffee, smoke, molasses and leather," having now tried Swedish Punsch I can attest to the uniqueness of the flavor profile.
The 26% liqueur is sweet, and as described does taste a bit like an Acid cigar. Not bad… by itself.
I had a feeling the lemon juice called for in the Biffy Cocktail would be a strange bed fellow for Kronan's Swedish Punsch.
Before adding the juice I blended our home brewed Gin with the recommended Punsch and gave the two a sip. It was quite nice. I liked it.
I squeezed 1/2 a lemon to create a little more than 1/3 ounce of juice and popped it into the shaker.
Ryan insisted that the 1/4 noted in the recipe meant a 1/4 slice of fruit not 1/4 of a Jigger. If that was the case, I added way too much juice! We gave the blend a try and YUCK! No bueno!
To correct the mistake, Ryan added another full dose of spirits to the shaker to even out the lemon juice. After a good shaking over ice as directed, the 3 ounce cocktail glass was perfectly filled.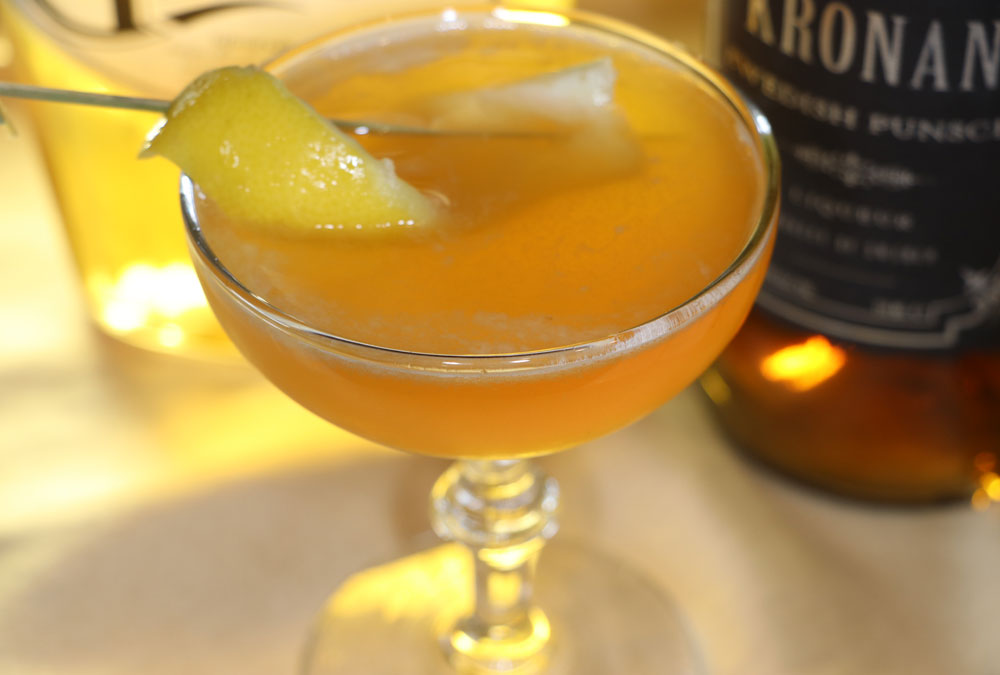 After capturing just the right pic, we gave the drink another try… I still did not like it 🙁
However, Ryan thought it was good and I gladly handed it over to him. I opted to make my own Biffy Cocktail sans lemon juice which was much more my speed.
Most of today's Biffy recipes call for Swedish Punsch but apparently, there once was a Punch version too.
Little can be located about the Punch other than this Wikipedia entry about Punsch that seems to imply the two are not the same. The article also claims that the original five ingredients for Punch were alcohol, sugar, lemon, water, and assorted tea or spices. If that were the case, the lemon juice should have been a better fit.
Moving on from the battle of the Punch vs. Punsch issue, I was wondered about the drinks moniker.
Defined as a toilet, Biffy is hardly the first word I'd use to name a drink. I've heard of Jungle Juice being made in a trash can. Too much of that and you'll be kneeling to the porcelain gods! But come on! I refused to believe the drink was named for a privy and Googled Biffy 1935 to see what else I could find.
Seems the original M16 agent who legend has it inspired James Bond was nicknamed Biffy… Now that was more like it 🙂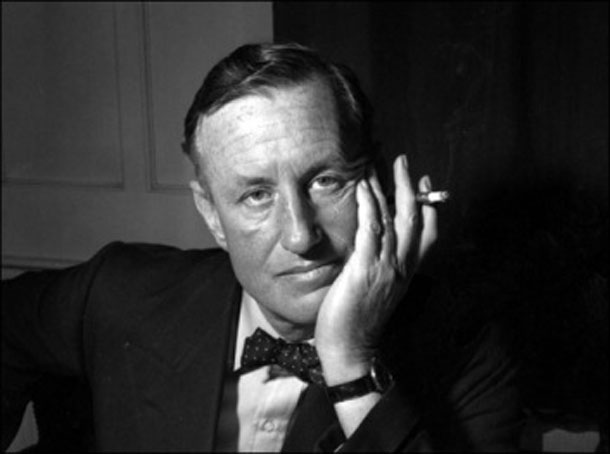 Commander Wilfred "Biffy" Dunderdale (doesn't have quite the same ring to it as Bond, James Bond – does it?) received the nickname for his prowess as a boxer in the British Royal Navy during WWI. During the 1930's, Biffy was the head of the Secret Intelligence Service branch in Pari. Like Bond, Biffy was reported to be a connoisseur of fast cars and women.
If you'd like to learn more about the man, here's a great article from The Telegraph.
While it seems odd to me that a secret spy should have reached a level of fame where as to inspired a cocktail during his tenure, I think it's a much better story for the drink.
Though I didn't like the cocktail, I hate to think Mr. Cotton would dare publish a recipe named after a toilet. I think "Biffy" the boxer and Punch make much more sense so I'm sticking to it 🙂