I mixed up a new Champagne cocktail to enjoy with a homemade Chili Relleno Omelet and nearly forgot I hadn't put together today's Mr. Boston post. I did however come up with 2 more Champagne recipes that I'll need to recreate down the road and share with all of you. Having feared I would forget my mixes, I emailed them to myself just in case.
I started writing the date next to each recipe in our 1935 book as a means of planning our cocktail vacation down in New Orleans. After realizing that the we would still be in the C section by the end of July, I went forth and dated all the recipes in the book. Seems my one year experiment is more of a long term commitment after-all.
While I was able to categorize multiple drinks into any given day, I still won't make it through the entire book until August 17, 2018. At first this seemed a daunting date, but I'm up for the challenge!
Rather than publishing each recipe and calling it a day, I'm rather enjoying delving into every cocktail and learning about the history of the drink. I think it's helping strengthen my palette and not just for booze. I noticed that my cooking skills have improved unexpectedly. I had fancied myself a decent home cook but now I think my palette has improved. I've also developed a taste for better cuisine and can spot individual herbal notes with more accuracy than ever before. Pretty cool!
My date notes had lumped the Blinker Cocktail and today's Mr. Boston's recipe into one post. I however hadn't noticed that until hitting publish yesterday afternoon. I guess as long as I continue to write on a drink a day, I should be in good shape to make it through the book by the Summer of next year.
One thing I hadn't realized was the amount of liquor my little experiment was going to take. I thought the initial buy in was pricey but now our stash is quickly dwindling and I'm rapidly approaching the refill point! This is shocking since we have yet to make it all the way through the B's!
Curacao has been a popular ingredient so far in the book. The Block and Fall Cocktail actually specifies the use of Cointreau which can sometimes substitute for the orange island liqueur. Unfortunately, during our Ginger Mule Kickstarter last year we used a lot of Cointreau. The Mexican Mule quickly became one of our favorite and many were enjoyed last Summer. Apparently too many. The bottle we sipped off for 12 years magically disappeared in 12 months!
Thankfully I was able to eek out an ounce of Cointreau to mix up the Block and Fall two different ways last night. There is even a smidgen left at the bottom for something else down the road 🙂
A block and fall is a rigging system used in theatrical productions. At least that is what I gleamed off the worldwide web. I have no idea what a metal pulley system has to do with cocktails but what I do know is that the Block and Fall was a tasty drink! It also introduced me to another famous bartender I'd yet to meet, Harry MacElhone.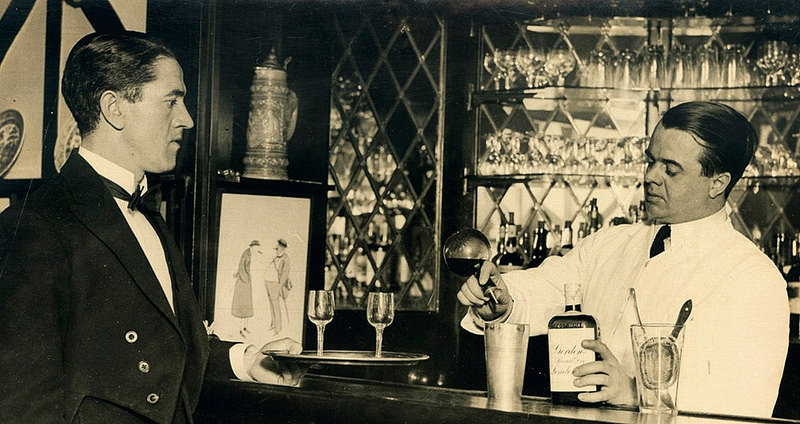 A Scottish bartender who became the owner of the world famous Harry's New York bar in Paris; Mr. MacElhone's bar is said to have be the birthplace of one of my personal fav's The French 75. After purchasing the bar in 1923, Harry made it famous and hosted many well known names throughout the years. Because we Scot's like our booze, Harry published a book on the subject in 1921 called Harry of Ciro's ABC of Mixing Cocktails. Now I have another manual to add to my growing list.
The Block and Fall was published in MacElhone's cocktail book but it is totally different to the recipe Leo Cotton included in Mr. Boston's original print. Both have an Anise flavored spirit, a Brandy, an Apple Brandy and Cointreau but side by side, these drinks are night and day.
I had no knowledge of the "original" recipe from Harry's book until after mixing up the Mr. Boston's version. And true to form I set out to mix up the former for comparison.
I knew I'd enjoy Mr. Boston's version straight away. After enjoying the Anisette / Apricot Brandy love-affair that is the Baltimore Bracer, the Block and Falls Anisette, Apple Jack, Apricot Brandy and Cointreau mix was right up my alley.
The quantities are once again listed in factions of a Jigger, at least that is my on-going assumption. As usual a bit of math was required to mix the recipe properly. The key I put together a while back helped immensely.
Fresh Apricot's was the first note to hit my senses and the drink was a lovely light pink. So pale in fact that Ryan didn't realize it was pink until I pointed it out. As suspected, I enjoyed the fruity, delicate Block and Fall thoroughly, though it did start to become a bit too sweet as the liquor warmed in the glass. The drink also seemed too feminine for a name like Block and Fall, the two really didn't compliment one another.
Harry's recipe calls for some stouter ingredients. Instead of fruity Apricot, the original recipe is just Brandy. I opted to use the aged varietal, Cognac, as another recipe suggested.
In place of the Anisette, Harry used Pernod (Absinthe). Not only is the proof much greater but the added botanicals in Absinthe add a little something extra to the flavor.
The Apple Jack from Mr. Boston's was supposed to be Calvado's which I didn't have on hand. Based on the description for the Brandy based Apple spirit, I decided to use our Bottled in Bond Apple Brandy from Laird's in it's place. At nearly double the ABV, Harry's recipe was a much stronger drink. For being 98.3 proof, this version was remarkably smooth going down. I could see someone enjoying a few too many of these, running into a wall and falling down. Now the name makes sense!
These two drinks couldn't be more different but we enjoyed them both very much. The fruity version was refreshing and dainty while the Absinthe forward recipe was strong and delightful. I'd be happy enjoying either one again sometime 🙂